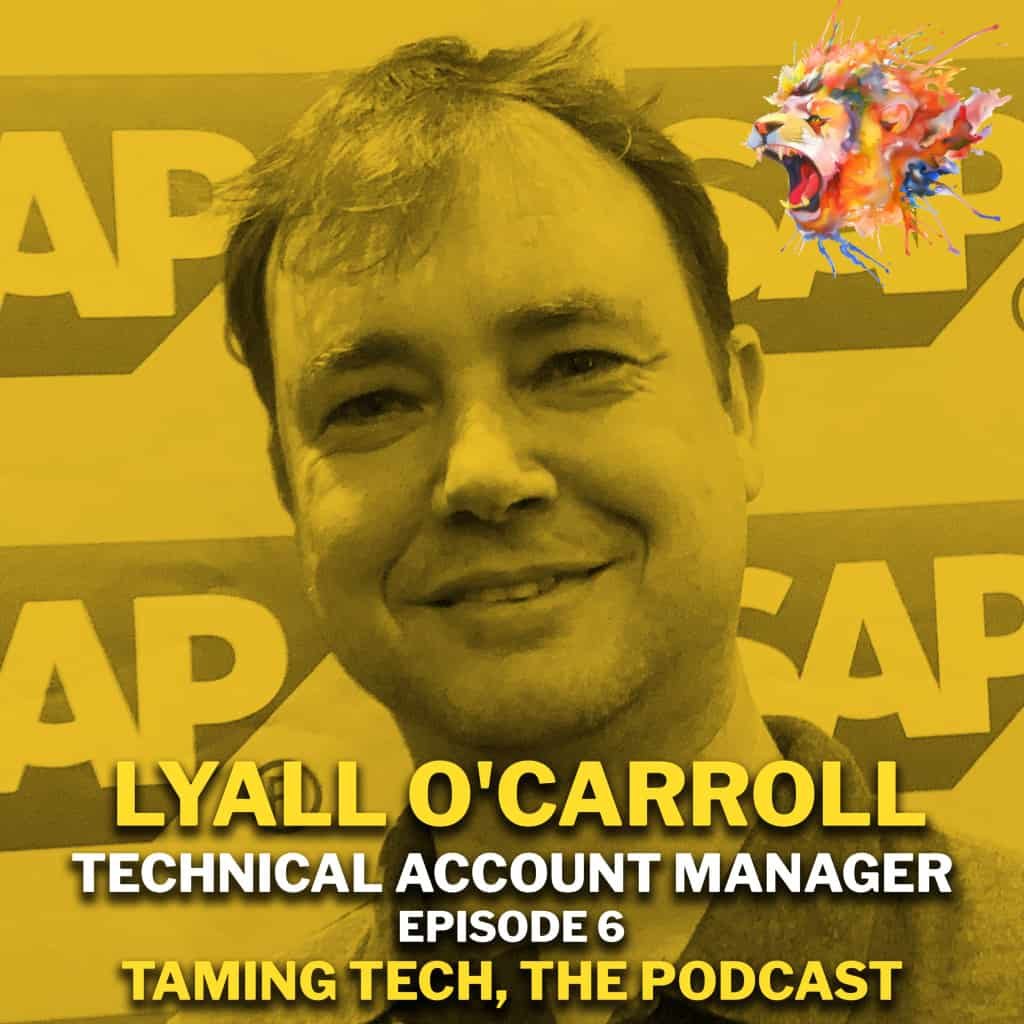 In today's Taming Tech, The Podcast episode our guest is Lyall O'Carroll, Technical Account Manager for Seidor Africa.
With a background in electronics and a passion for engineering, for the past 14 years Lyall has helped companies and business leaders unlock potential and revenue within their businesses.
Lyall shares how, with an effective software solution, like SAP Business One, and big data analytics companies can grow their profits without having to grow their staff compliment. And how this allows their customers to employ their personnel in more rewarding roles that grows their business.
Who should listen to this episode?
If your company structure is management heavy.
If your company is a generational business and you're looking for an effective way to manage the transition between founders and the next generation.
If your managers are policemen and micromanagers and not leaders advancing your business' goals.
If the ineffectiveness of disparate systems is holding your business back from reaching the potential you see for it.
Show Notes
More about Seidor and SAP Business One
Edited Transcript
Paul Ogier
Howzit, Lyall? How are you doing?
Lyall O'Carroll
I'm good, Paul. It's a lovely Friday lockdown morning. What can you say?
Paul Ogier
Oh, well, you could say that it's a lovely Thursday; which is worse.
Lyall O'Carroll
I suppose. I would have been on leave then too. So Friday on leave is good as well.
Paul Ogier
Yeah. Well, I'm very impressed that you actually put on work clothes and you're on leave. That shows commitment. That's impressive.
Lyall O'Carroll
Well, Paul, your podcast is important to me. So we make the effort, don't we?
Paul Ogier
Okay, well, most people are just doing the audio podcast, they can't see how pretty you actually do look. The people who are watching the video will get the full Lyall experience. So that's something to point people over to YouTube for that.
Lyall O'Carroll
Brilliant.
Paul Ogier
Lyall, we always start with some quick questions. To get you going, get the energy up and let our listeners get to know you quickly. So quick questions to get to know you quickly. Okay, ready? Here we go.
What is your most-used emoji?
Lyall O'Carroll
Uh, sjoe, have to be smiley face if I use emojis ever.
Paul Ogier
Okay, so you're not one of those that effusively use smileys and emojis?
Lyall O'Carroll
No, I think the main reason is I'm a person that enjoys vocalizing. So I tend to find that my intentions don't always come over well, in tech speak.
Paul Ogier
Okay. Are you a good dancer?
Lyall O'Carroll
Well, it depends on the time of the evening. It depends on the level of courage. And it depends mostly on how badly the other person can see.
Paul Ogier
Okay, okay. I'm going to move quickly past that. And when someone finds out what you do, or where you're from, what question do they normally ask you?
Lyall O'Carroll
It's a very interesting question, mainly because it's very hard for me to try and explain sometimes. So I'm in the business of helping people realize the money they've invested already. I've spent a long time with the company, I work for Seidor, selling new name business. So that's bringing new customers in and selling SAP Business One. I think now that I'm in the technical account management the new name sale is out of the way and what I really focus on is helping people realize the benefits of the investment.
Paul Ogier
So what question do people ask you?
Lyall O'Carroll
So it would be things like, so I have SAP ERP already or SAP Business One ERP already, what are the kind of areas that I can look to unlock in my business? I have these kinds of problems. How can you help me? You're a person who's been in the industry for X amount of time, have you seen this before? And how did you help other people?
So a lot of what I do is helping people navigate their way through to an answer.
Paul Ogier
What is your favourite piece of technology?
Lyall O'Carroll
Wow, okay, that's a huge question. So I'm a bit of a techie. I look up over here and directly in front of me, I have my 3D printer, I've got a couple of network bits and pieces I've got two servers I'm busy playing with. I am the kind of guy who reads gets involved in things. I think if I have to talk about it as a concept, yeah, it would be connected technologies. Anything that connects or facilitates the connection to something else. So I have a lot of interest in automation. I have a lot of interest in getting things to do things without effort.
Paul Ogier
Okay. If you had to pick as a superhero because that's obviously important question here. You're a superhero. You can either teleport, or you could fly,
Lyall O'Carroll
Teleport or fly. I'd have to say teleport. Very hard to fly underwater.
Paul Ogier
Okay, that is the arbest answer I've ever heard. I love it. If you had to leave one app on your smartphone, and you had to delete all the other ones. What would that be?
Lyall O'Carroll
Um, sjoe. I'd have to say WhatsApp. The reason being that I use it to communicate with my family. Nothing else matters. All the rest of the stuff can bugger off communicating with the people I care about is probably the most important thing to me.
Paul Ogier
Okay, and WhatsApp does the messaging and it does the voice and the video calling. Yeah.
Lyall O'Carroll
I'm not endorsing it anyway, though.
Paul Ogier
Okay, no that's fair.
Okay, so getting into the meat of this. You are working with Seidor and you are working with SAP Business One. When I hear SAP I go, well, that's massive pieces of software. What is the difference between SAP and SAP Business One? Is there a difference?
Lyall O'Carroll
So I think it's easier to understand the similarities. So the similarities are just three things, the S, the A and the P. There is no other similarity between the products. There are massive benefits, though.
So SAP's been around for 40, 45 years. And they've been doing large ERP. ERP being a way of connecting all the different aspects of your business together in a way that benefits the different sides. So we've got 40, 45 years of SAP doing that.
We all know the fortune 500 businesses. The key part of that is that there are only 500. So if you really want to expand your business, you need to start to look at the SME layer. The SME layer being small to medium businesses. We're talking businesses between a million to 10 billion Rand.
So SAP Business One caters specifically for the small to medium business. It takes the benefit of those 40 years of best practice, SAP pouring millions of dollars into R&D, and delivers that in a cost-effective way to the smaller business.
A good example of this would be we all heard of kind of big data.
Paul Ogier
Ja.
Lyall O'Carroll
One of the key things about big data is knowing what to do with it. Now you've got all this information, you need to be able to present that. So a couple of years ago, SAP released a product called SAP HANA, SAP HANA is an in-memory solution that actually allows you to be able to actually use that data.
Paul Ogier
Okay.
Lyall O'Carroll
And in the LE space or the large enterprise space, it's a couple of million Rand, in our space it ships free of charge.
Paul Ogier
Okay.
Lyall O'Carroll
So there are massive benefits to what the large product is doing and those benefits trickle down. But in terms of similarity, as I said, just the S, the A and the P.
Paul Ogier
Okay. So what is the typical profile of a client?
Lyall O'Carroll
So they are typically coming from what I call accounting only solutions. So the typical business is a business that's been trading for a couple of years. They've spent a lot of time working on the operational model of the business, making sure they're profitable, cracking the market and making sure that the product that they've got has a clear and distinct target market.
They've now got to the place where they're spending more time managing than they are actually running the business.
The story I tell is no one ever woke up in the morning and was sitting at school as a six-year-old and someone says, what do you want to do? And he says, geez when I grew up, I really want to be a manager. Bugger being an astronaut, I don't want to be an astronaut, I want to be a manager. You know, that's just not something that happens.
What we find in business is that people are really good at particular things. We tend to find that businesses promote them away from what they're good at and turn them into policemen. And that is the kind of businesses that we start to get involved with.
So typically they have more people managing or policing the business. What our technology really does at its base is it frees up those people to be able to concentrate on moving the business forward. So use the skills that the business saw in them, use the potential the business now has in them, and actually realize that benefit into growing the business.
Paul Ogier
The thing that people might possibly not be clear on, is when when you say big data, big analytics, it might be 1000 rows in an Excel file. What is big data to you? What are the benefits of using SAP Business One for managing your big data rather than having a nice big graph in Excel?
Lyall O'Carroll
Big data really is just simply the collection of multiple sources of information, regardless of the benefit to the business. And that's what we do, we're collecting information.
Earlier I spoke about accounting only companies. So this is where they just had financial information. And we've all heard of month ends and year ends. And, and the real driver for that was was actually hard drive space. So what would happen is companies would acquire this information, and in this instance, it's financial. And the computers couldn't process enough of that information, they couldn't hold enough information. What they needed to do was like any excel sheet, create a total on the different sections and restart the next month or year.
Now that allows you the ability to start creating budgets for business it allows you to understand what you bought last month, so you don't over-purchase this month. And that was the start of using data in the business. Now as hard drives and technology grew, we were able to collect data for a whole month, and then a whole year, and now multiple years. And we needed a term to understand that and that was called Big Data.
The output of big data, what big data really does for business, is it allows you to make good decisions.
We're now sitting in the year of COVID. So let's have a very simple example. So I looked at my buying cycles last year, and what did I buy? I have bought certain commodities, I needed to buy nuts and bolts or PCs, whatever it is. And I say, well, listen, last this time last year, this is what I was buying. So based on my information, I should be buying this.
Paul Ogier
Absolutely. That's just the way projections work.
Lyall O'Carroll
So, you can't make money if we don't have product to sell.
Paul Ogier
Yes.
Lyall O'Carroll
Now in the world of COVID, what you've had to do is say how long does it take me to get that? That stock? So at the moment, if you buying things out of different countries, the shipping is four to five times longer.
Paul Ogier
Yeah.
Lyall O'Carroll
So you need to be making that decision four to five times earlier, to be able to meet your customers demand.
I'd like to believe that customers are loyal. What customers really are is hungry. So if a customer wants a PC, they will come to you because they trust you.
Paul Ogier
Yeah,
Lyall O'Carroll
If you don't have it, they will go somewhere else.
Paul Ogier
Yes.
Lyall O'Carroll
So what we need to do is have their PC for them when they need it.
So what big data has really done is its helped businesses reduce the amount of money invested in the business. So we're either reducing our stock or the amount of staff that we have and trying to utilize or turn our money better.
The real output of big data is what I've started to call big analysis. So big analysis is where we say we've had this data from last year and that tells us that during December, certain clients have this behaviour. And in January, other clients have this behaviour. And we also can tell that year on year we've got X amount of growth or certain products. So how does that influence our decisions?
So to me, the big difference is big data tells us historical information whereas big analysis will help us understand future information. So the one is to substantiate a decision and the other one is to make a decision.
Paul Ogier
Very cool.
Lyall O'Carroll
Does that answer your question?
Paul Ogier
It answers my question and takes the next 15 questions off the page. We'll carry on talking about your childhood and how you were potty trained. I'm very excited about it.
Lyall O'Carroll
It's stood me well my entire life.
Paul Ogier
Okay, the potty training. Yeah, you use at least once a day.
And so the companies that are looking to move, the companies that you are targeting, the companies that might be listening to us. When is actually the time that we should be looking at moving to this kind of thing?
We said we've been using a financial software a Pastel a Sage, a Fresh Books or whatever? What's the optimum time for it?
Lyall O'Carroll
So it's a balancing act. In a perfect world, you want to do this when it's not going to affect your business.
These kinds of projects last between three to eight months. And during that time a lot of effort is required from the business. So you need to be able to have the time to be able to actually concentrate on making this kind of project effective.
The problem with that is exactly the kind of business that is looking for the solution doesn't have time. They typically have massive overtime because people in management are having to make decisions outside of operational time to run the business.
They are people who have a feeling that things could be easier. They typically are running the business financially, but operationally they are probably gurus in Excel and have 50 different Excel sheets that are actually running the business. They may have five or six other solutions which are effective in their own right but they need them to talk to each other.
They feel they're overstaffed. They've probably for the past three to four years, been fixing problems with people. So, we've got a problem, fine let's employ someone, and that's his job. So they tend to be management heavy, they tend to be overstaffed. And they tend to have this feeling of frustration.
This is the kind of metric that we see in speaking to our clients five, six years after going with Business One. The vast majority of businesses will double their turnover in the next five years without taking on extra staff.
Paul Ogier
Okay.
Lyall O'Carroll
And that's a very good indicator. So that's telling us that they were overstaffed, to begin with. So our return on investment is minimum five years in just staff alone, which is it's a very scary place for people to be.
I think anyone that's been in business for a number of years, realizes that having good staff is key to growing your business. Being able to trust someone, having people that are innovators in the business, having people that really can drive concepts and understand them and be left alone to run them effectively. Acquiring that talent is a very difficult thing and nurturing it and keeping it is twice as difficult.
Paul Ogier
Absolutely.
Lyall O'Carroll
So not having to bring new people in the business to grow. It is a huge plus for many of our clients. And, secondly, being able to actually unleash those people's potential is - the value is incalculable.
Paul Ogier
Look the thing is that if you if you're looking at good staff, they possibly will be doing the work of three people. And I think that's always the problem with good staff is that you go, well, I can trust them with this and now you palm more stuff onto them. The bad staff get half the amount of work.
Lyall O'Carroll
Correct.
Paul Ogier
But if we could actually focus on the good staff, those are the ones that actually are going to grow business, those are the ones that you're going to put your trust in, those are the ones that are hen's teeth, sometimes.
Lyall O'Carroll
Exactly. We have these people with this amazing potential ability to really invest themselves into the business and to take the knowledge, the insight, and to really evolve the business in their particular departments or industries or verticals. And we take these growers of the business and we turn them into those managers and policeman. We tie up all their potential, managing people who have less potential or potentially less potential. And what's important is to really release these people. So they can realize what usually the people above them have realized already.
Paul Ogier
Ja.
Lyall O'Carroll
This has a ripple effect on staff longevity because they stick around because they feel valued and are doing the things that they really enjoy.
Secondly, we see this in business value, in that these are people that have got new ideas in the business that are unique. And what is typically evolving is just simply allowing them the time and the space to be able to do that.
Paul Ogier
You've been at, Seidor, which was previously called Blue key, for 14 years. Firstly, 14 years is a hell of a long time. How are you still interested in one particular product? How are you still interested in one particular company? And you can't fall back on loyalty, that doesn't work for me. You and I go back a long, long way you may be the definition of an ADHD kid.
As you said you want to take things apart, you want to play with the technical things. You are the person who takes the remote control car apart, and hopefully, puts it back together and works properly. But it will first go much faster, it will have bigger tires, and it will be bright red because that's cooler.
So how have you actually stayed interested in one particular product for 14 years?
Lyall O'Carroll
I think it's not the product, the product for me is a tool. For me, it's probably the reason that I got into this.
So I worked for a number of smaller home-based businesses, in my early career. Very much in lines with technology and connected technologies, and engineering and that sort of stuff, which are my real passions. I was lucky enough to work with people that really cared about people and that that really left a really solid impression on me.
The second thing is, I saw really good businesses, making maybe not the best decisions, and I was at the grassroots of the effect of those decisions.
I took about six months off, which meant I didn't earn anything for about half a year in my early 20s and I sat and thought to myself, well, what am I going to do? And where am I going to go with my life in a business sense, where I can really make a difference to those people. And I started looking for businesses that concentrated on securing other businesses. Securing the longevity, the profitability, the people, the meat and potatoes of other businesses.
And it was at about that time when I heard about Blue Key and what they were doing, and I didn't really understand it but I knew that they were a business that was pioneering ERP in South Africa that they had a small business family, feel about them, that they wanted to make a difference and help other businesses and I pretty much hounded them for 11 months to get the job.
Paul Ogier
Okay.
Lyall O'Carroll
I started in Cape Town. I spent 10 years working and growing the Durban office, and now I am in Johannesburg.
SAP Business One is something I really, really believe in but it's, it's about what we offer and it's about the effect that we have with our customers. That they feel better off, they feel that the business is secure.
In South Africa, we see a lot of businesses are handed from a homegrown older generation to a well educated, but less practical, new generation.
Paul Ogier
Okay.
Lyall O'Carroll
And there's a lot of difficulty in translating that knowledge and that historical know-how into business acumen.
Paul Ogier
Yes.
Lyall O'Carroll
And a lot of the companies that we've had a lot of success with has been around leaving that knowledge behind, having a repository to allow new, well educated, pioneering type individuals to operate a uniquely, maybe a little bit risky, but to have that safety net of good decision making.
We don't work with anyone kind of business. This week alone, we've worked with hospital groups, I've worked with engineering businesses, I've worked electrical businesses, right through, so anything from engineering, to manufacturing, from people management, to care management. So the type of businesses keeps changing.
But the reality is the problems are typically the same. How do we make good decisions? I like digging into that and helping people understand that. And I'm really tapped into the engineering and that connected technology side that I so enjoy.
Paul Ogier
So basically, it keeps you on your toes.
Lyall O'Carroll
Pretty much.
There's always something new. There are always customers who've got great and grand ideas that we'd like you to investigate for them. And that really plays into who I am as a person. And that keeps me really interested and motivated in the new technologies and the new things that we can help our customers with
Paul Ogier
14 years ago, you when you started, pretty much everyone had an on-prem server, and everyone had kakkie Internet. We are now in 2020 and, thank goodness, we have better internet because, with this lockdown, I don't think I would have been still a little bit sane if I was in the 90s and lockdown.
Lyall O'Carroll
No, no, we do. We'd all be sitting next to our little our telephone tables. Yeah. Probably with a queue of our siblings waiting to fight us for the next phone call.
Paul Ogier
I remember in the 90s you and I would like spending a good couple of hours playing Oregon Trail and civilization and things like that. We didn't have any internet for that. So maybe I'm wrong. Maybe I'm wrong. Maybe it would have been fine.
Lyall O'Carroll
Yeah, I think I'm one of those people that still starts to laugh when I hear dial-up tones from the old US robotics modems,
Paul Ogier
Ah, ja, 14400s. Okay. Enough, enough of that.
So, 14 years ago, everyone had on-prem, when did SAP Business One move to the cloud? What was the impetus that moved it to the cloud?
Lyall O'Carroll
It's a very interesting question. I think the first thing is probably to define what in the cloud means.
Paul Ogier
Yes. Someone else's computer.
Lyall O'Carroll
Yeah, basically in the cloud means you take the convenience of your computer that was next to you and you put it somewhere else and inconveniently connect to it.
Paul Ogier
Yes.
Lyall O'Carroll
So in the cloud is a very nice way of explaining that you're now connecting to the same piece of tin or hardware that's now not at your location.
Paul Ogier
Yes.
Lyall O'Carroll
So I think the thing to understand is why have we taken something so practical and turned into something so impractical. Living in South Africa, there are two key reasons. The one is our state-owned organizations and their commitment to electricity.
Paul Ogier
Yes.
Lyall O'Carroll
If you and I are having a chat now, and my fibre shuts down because I might not have electricity running it, it means that I can take my laptop which I'm currently chatting to you on put in a 3G dongle and carry on working.
Paul Ogier
Yes.
Lyall O'Carroll
So when you put the belief of someone who's done A+ or N++ course, and you bring them into your business to look after the central nervous system, the architecture, the arteries and veins of your business and it turns out that they haven't taken a backup for five months or worse if they are taking backups, but they haven't tested it. That is a real risk to the business. So what the cloud really does, for 90% of businesses, is you're balancing the inconvenience of having on-premise architecture versus the risk of not managing that.
Paul Ogier
Yes.
Lyall O'Carroll
So what we've seen is in our businesses, as businesses grow, we've gone from businesses, which had 80% of personnel at a single location, and 20% of them remote. So either branches, or outbound salespeople to having a 20%, administration staff, and 80%, in either production environments or in outbound sales or service management. So it no longer makes sense for those people to have an on-premise solution. Because if the internet went down, or connectivity went down, 80% of their staff couldn't operate.
Paul Ogier
Ja.
Lyall O'Carroll
So by having a cloud solution, we mitigated that risk and we were able to carry on trading.
We live in a world now where data needs to be effective, we need to be able to get to it, we need it to be achievable. We rely so much on data, and simply removing it leaves us almost impotent, where we're unable to make any decisions. And we've also trained ourselves and we've trained up technologies, and we've trained up customers and suppliers, that they can communicate with us in this way that it's effective. And simply not being able to get to the information and make those decisions or be effective or respond leaves us in a very, very tough decision.
So the cloud has really kind of taken care of that for business but it's left us with new problems.
Paul Ogier
Ja.
Lyall O'Carroll
So the new problems operating specific. So either you've only got a Microsoft front end, or IOS front end, or what we see more is mobile or Android, or Huawei front ends. So we're moving away from more traditional client-server environments, that's where there are direct connections into a server web front end or app environment. The problem that we're seeing as a business is that these applications are very, very focused, and there's massive value in that but having them talk to each other, and cross-linking real-time information, I think is the hurdle that we're all at now.
Paul Ogier
Okay. Ja, that is really the utopia of data, that everything communicates with everything in real-time. And you have decisions made on that data in real-time.
So, you guys are running on-prem solutions, you're running in AWS, you're running in Azure, you're running pretty much on all the cloud platforms, aren't you?
Lyall O'Carroll
Yeah, so included on that, is Huawei.
Paul Ogier
Okay.
Lyall O'Carroll
We also run both traditional SQL environments, as well as Linux or SUSE Linux environments.
So it depends essentially on what the customer wants. We are very much spoilt for choice in today's technology, but with that choice, comes budget constraints, comes the growth of the business.
And we need to have a look at what a business can actually consume. There's no point in giving them all the options in the world which come at a particular price point but we need to also make sure that that customer is able to consume the information in a way that makes sense to them.
It's pointless giving them the Rolls Royce or the or the Platinum version of what's available and the ability to use that, the price to use that just consumes their business.
What we don't want to do is create roadblocks to them as a business. So it's very much about meeting a client where they are in the journey or lifecycle of the business.
Paul Ogier
For me, with the cloud-based solutions, AWS, Azure, 10 years ago, that wasn't around. We're in COVID, times and we are all working remotely. Have you found that there's much of an impact of you guys? I mean, with everything in the cloud, with your teams with your salespeople has it changed? What kind of things has changed for you in working remotely?
Lyall O'Carroll
So I think these two key things are really stood out for me.
The one is, we certainly are all capable of working remotely. I saw an article, the headline was the cat's out of the bag. It simply talked about how we all thought this could happen but businesses were a little bit sceptical, a little bit worried. And there was no real need to trial it. What COVID did is it forced everyone to do it.
As a business, we are really looking at how we will deploy people, how we will look at new work and what that means to us as a business and the technologies we need to actually do that.
On the back of that, we see very clear types of problems. So the first he talks about as the watercooler conversations. People hear other people's conversations. Just put them on hold for two minutes. Listen, John, what you need to do is just chat to so and so and tell him we do you have a solution. It's that ability to just converse, and we look after each other as a community and family. Now, how are we going to replicate that?
And whether or not that is still going to be something we talk about in the new norm is something I'm looking to see and how it will play out. It's a very valuable part of the business and that's what we talked about.
There are team dynamics, people caring about people in the office, that intrinsic knowledge that just travels. So that is the one component and something that's become very real, especially to me.
The second thing is I literally had a call from a customer this week that said, listen, we've got X amount of money, we want to have a sit-down and talk about automating as much as we can in our business. So the reason for this is, people want to be able to pick up a mobile device, they want to be able to say, listen, John, I've just sat with you, or here's a quote, I've just done it, just check your email. It's either in your email or if you're happy, can you just sign my device?
So we talked about a paperless society, and we have been talking about it for many years and we're now moving towards a very technology intrinsic society, where it's no longer just about getting information. It's about completing the task.
Paul Ogier
Yeah.
Lyall O'Carroll
It's also about metrics. So people say, well, you know, what have you done today? Because you haven't been at the office?
Paul Ogier
Ja.
Lyall O'Carroll
I could have been shopping. It's about have you been effective. Have you spoken to John lately? What did you chat about, it's about you, maybe being ill, and someone being able to pick up what you've been doing. So there's this massive automation that I think we'll see more and more of, and actually just leveraging on existing technologies. And I think there's the other side, which is the real people aspect of us moving away maybe from a people-based business to more these these these automated businesses or these more automated businesses but trying to find a balance between the two.
Paul Ogier
What's actually happening now is it's it makes me believe that people were very focused on the micromanagement. Have you done this? It's more about what is the effectiveness of what you've done? Has the person bought the thing? Has the person been satisfied with your service, rather than each individual tasks? And I think when we start looking at that as a, as a business overview, rather than the micromanaging, it actually might be more positive. And it will also weed out the bad workers versus the exemplary work that you spoke about earlier. And because, instead of micromanaging them, go okay, well, you did 15 tasks today, but you still achieved nothing. And you actually basing it on achievement, you're basing it on how they actually work.
Lyall O'Carroll
Yeah. I think we've been a very reactive society for a long time. I think we're going to see is we're going to move into a business-centric society where we're going to be doing more planning. So we're going to say, you know, I don't have these three tasks, but in five, six days, a month time, five years times, these are the things I need to have achieved.
Paul Ogier
Yes.
Lyall O'Carroll
And we don't need to be monitoring all the things that are going well, we don't need to be monitoring or seeing all the information our staff is doing accurately, we just want to effect, make a difference where people are battling.
I think in doing that will free up a lot of our time for a lot of customers.
Maybe they get sick of it, but they will certainly understand my phrase I call them coffee cup reports. So these are the little reports or pockets of information that you typically sit with, you get to the office, you have your cup of coffee, you take the next five to 10 minutes to just look at what's not going well.
I don't need to spend 20 minutes understanding that my production environment is working well, I don't need to understand that my staff are doing all the things they're supposed to do. I assume that's part of their KPIs.
What I need to do is understand is where I can be effective, and help them. And that's the key part. I think we are moving away from being policeman, and we're going to start becoming confidants, we're going to start to grow our staff.
I think what you're really going to do is move towards what we probably think of as leaders, are people that have information, and are going to help and deploy that.
Paul Ogier
I think people listening might go that's a wonderful thought but I've got this idiot back at the office who I will never trust and I am going to micromanage the hell out of him because he is stupid. I think that basically, we just need to realize who the people that we need to count on and who the people that we can't.
Lyall O'Carroll
There will always be people you need to micromanage, there'll always be people that require more effort.
Paul Ogier
Ja.
Lyall O'Carroll
I think the key is, is having the time to do that. So if I didn't have to micromanage everyone, and only need to micromanage one or two people, then that would be great.
I'm certainly not infallible. I have managers just like everyone else. 99% of the time, my manager will trust me to get on with what needs to be done. But like everyone else I have weak points, and without doubt, there'll be one or two things, he'll phone me or message me hey, Lyall, just a quick reminder to get this done.
Paul Ogier
Yeah.
Lyall O'Carroll
Now he has time to follow up on that. He understands that I'm a person, that I'm concentrating or I have interests or that my priorities lie in different areas, and that he does need to let me know that there are certain things that still need to be done. And because he has the time to do it, it helps me become more effective. And it helps him be more effective and shine. So, you know, happens in all aspects of the business. It doesn't matter how good you are. Whether you've been in the business for 14 years or if you've been there for two months.
What it does do, it just allows the people around you to make sure that you're as effective as you should be, and to really reach the potential that we all really do have.
Paul Ogier
So what is the next thing? Is automation the next big thing in SAP One Business One?
Lyall O'Carroll
We're certainly moving more and more to a mobile workforce. I think we're going to see a lot more investment into areas that are more communication-based. So we talking about things like integrating communication platforms, to being able to access fringe data to make decisions. I think we're going to see a lot more of KPI and analysis-driven information to help us make better decisions. I think we we're going to move more away from operating systems, and more to consumer-driven interfaces,
Paul Ogier
More agnostic in terms of an operating system, if you're on Mac if you're on a phone if you're on Chrome.
Lyall O'Carroll
Yeah, what we're going to see is customers are going to want to find easier ways to consume information, and also easier ways to plug the little bits of extra information in and to be able to do that their technologies need to change, and there's gonna be a lot of work there.
In terms of business and customers, I think, again, we're going to see more community type solutions, so business to business, end to end. So if one of your customers wants a quote, that there would be a piece of technology, they ask for a quote, and it would deliver a quote without communicating internally within your business.
Making it easier for your customers to deal with you, making it easier for your suppliers to understand what they need to supply to you. So we're going to see a lot more automation, there's a kind of Community Solutions now. And I think we're going to see fewer salespeople or buyers in businesses, and we're going to see more accounting account type people, so more people actually concentrating on communicating, actually concentrating on relationships.
Paul Ogier
Yeah.
Lyall O'Carroll
Because that's going to be far more difficult for the computers to handle. And we're going to see computers actually look at the automation of the processes or the outcomes of those conversations. You know, the same thing I said earlier, our customers are going to be able to do twice the turnover without taking on more people.
I think people's focuses are going to change and I think the systems are going to free up time for them to focus on those relationships. So I think it'll be very interesting to come close to the world of AI artificial intelligence. I don't think artificial intelligence will mean where Terminator, in the end, the robots will take over the world. I don't think that will ever happen.
Paul Ogier
Well look, if SAP starts disseminating my information into sort of like a sentient being, and thoughts attacking me with my own data, I'm going to be upset
Lyall O'Carroll
Ja look so will we.
At last SAP summit, there was a great example of a little robot that ran up a piece of railway track. And while it's running up the railway track it was doing these little soundings and found out that a piece of rail was starting to age or become too thin or weak, automatically created a service card and then all of a sudden from this little robot. A whole bunch of work happened and a lot of businesses now got work and value.
Paul Ogier
Yes.
Lyall O'Carroll
So I think that's what you're going to see. I don't think businesses will change. I think how we acquire data will change. I think businesses will become safer. I think they will become easier to deal with. I think that we're not going to have customers and suppliers who are shouting and angry because we going to have technologies that will address or find those issues before they happen.
So I think what you're really going to have is a far more beneficial society. And that's where AI is going to fill the gap. But it's certainly going to be interesting to see how that happens.
Paul Ogier
Well, I think that's all the questions I have for you. And I think that you have broken down your love for technology quite beautifully. And thank you so much for joining us, and where can people get hold of you.
Lyall O'Carroll
So I think the easiest places is to grab me on my email or my LinkedIn pages, the details of which I understand will be attached to the podcast. And you're, of course, welcome to find our offices at Seidor and reach out directly. I'm always happy to have a chat and to help people. I'm interested in building relationships, even if initially, they aren't financially beneficial. What interests me more than anything at the moment is just helping people understand and unlock the potential in their businesses. And maybe if we have to do that over a beer, or a cup of coffee, and really understand where other businesses are at I'm in I'd love to share my knowledge and my passion for the industry.
Paul Ogier
Beautiful. Thanks so much, Lyall. And I will speak to you soon. I'm sure. Thanks, man.
Lyall O'Carroll
Excellent. Thanks, Paul. Have a Good Friday. Stay safe.
Paul Ogier
I will you too.
Transcribed by https://otter.ai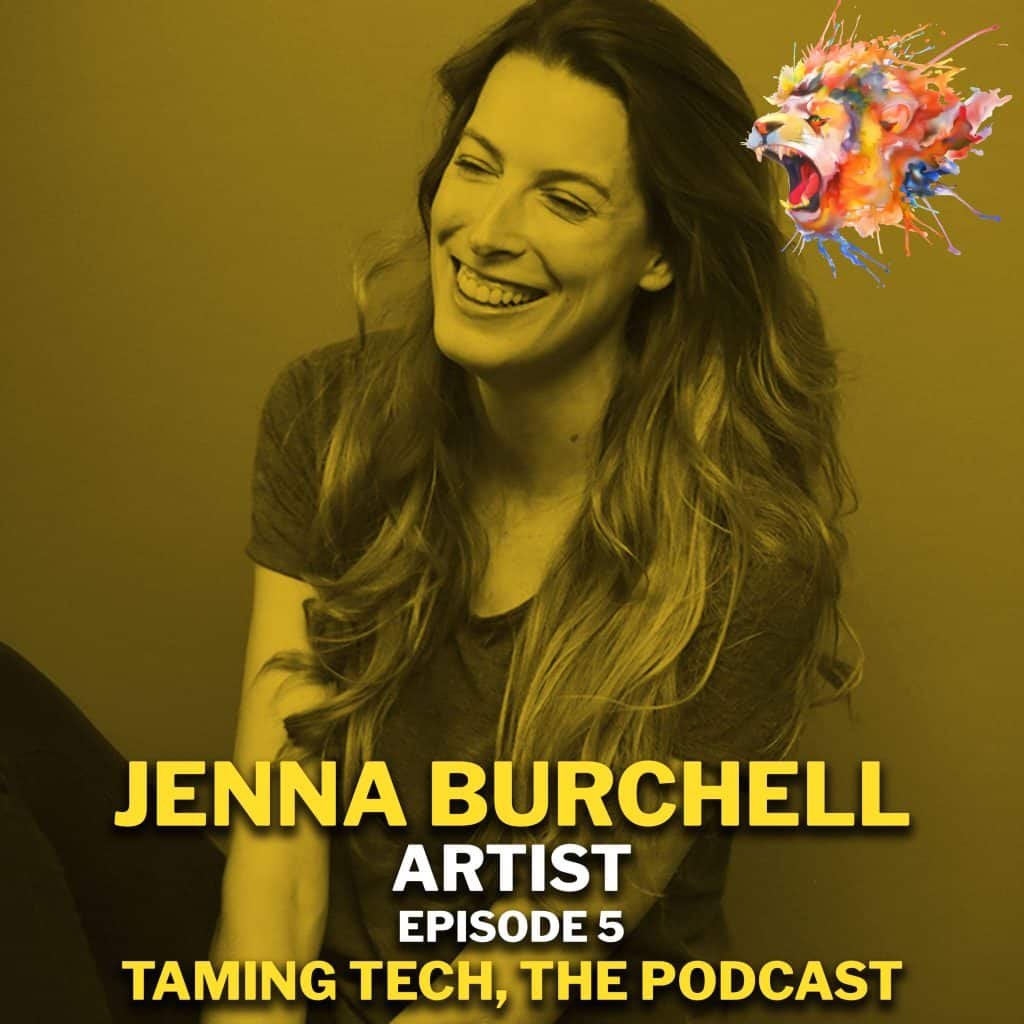 In Taming Tech, The Podcast episode 5 we speak to Jenna Burchell an award-winning South African artist who fuses the digital with the natural world.
When we think of technology, art doesn't ordinarily come to mind, which is one of the reasons why Jenna Burchell's sculptures are extraordinary.
Jenna shares with us:
how she works with technology to marry the tech with the organic
how the amalgamation of the organic and inorganic subverts expectation and takes on a transformative experience
her experience with the ghost in the machine
how including technology in her creations results in a long term relationship between creator and collector
how her work celebrates the joy of repair and rebuilding and how the process animates the artwork
Who should listen to this episode?
Anyone who is:
You are looking for inspiration on how you work with technology
You are looking for a way to rebuild after experiencing a fracture in your work or in your life
You are exploring ideas on how to use technology in a different way
You are interested in the behind the scenes process of creating art that reframes the narrative
Show Notes
"The Rise of Technology in Art" https://www.bareconductive.com/news/the-rise-of-technology-in-art/
Kintsugi https://mymodernmet.com/kintsugi-kintsukuroi/
The Singing Stones of Spier https://www.zkhiphani.co.za/the-singing-stones-of-spier/
Jenna Burchell's Website https://jennaburchell.com/
Jenna Burchell on Instagram https://www.instagram.com/jennaburchell/
Jenna Burchell on Vimeo https://vimeo.com/jennaburchell
Experience the Sounds https://soundcloud.com/jenna-burchell-1
Jenna Burchell on Facebook https://www.facebook.com/jennaburchell.artist/
Absa's Art Virtual Tour – 7 artists you should know about https://youtu.be/Q-kMKcele7I?t=820
Experience Jenna Burchell
Edited Transcript
Paul Ogier
Howzit Jenna, how are you doing?
Jenna Burchell
I'm good. How are you, Paul?
Paul Ogier
I see that you are not in Johannesburg right now. You are down in Cape Town?
Jenna Burchell
Yep. I'm sitting in Simonstown today.
Paul Ogier
And what is the weather like, out there?
Jenna Burchell
Ah, sunny.
Paul Ogier
Okay, we're gonna move off the weather conversation very, very quickly.
Okay, yeah, what we like to do is we like to start off with, with what is called the quick questions. We call it the three Qs, the quick questions to allow listeners to get to know you quickly. So here we go.
If you could take a year off from work, what would you do?
Jenna Burchell
That's a really funny question because, in an art career, you often take a year off. So I find in an art career, you tend to have a year that is like in production and a year that's in making. And pretty much It's my dream job.
So when I take my dream year off, say, and I spend the year like it might be travelling, it might be like researching gaining insights. It might be upgrading my studio, which is one of my favourites, DIY. Yeah.
Or it could be building new works and exploring new topics. But what I love the most is that it's a, it's kind of a very experimental space. So you spend a lot of time kind of messing about a lot of your works. I like high-risk reward type of situation. So you, you have a couple of sculptural failures, or, yeah, at the end of the day, it's kind of like a year of just pure self-exploration.
Paul Ogier
And because you can take a year off, if you do have failures during that time, it's okay not to have like, under time pressure, you're not under a deadline, which is quite nice.
Jenna Burchell
Yeah, like there's always pressures, and there's always some deadlines, but I often see a kind of rhythm in my business, I started kind of encouraging this behaviour for myself. So I'd have a year where I really put into being like out there and producing and exhibiting, but in this particular off year, it's, yeah, it's got a lot of liberties. And you can take those types of risks without the fear of not meeting a deadline.
Paul Ogier
If you had to add one cool feature or unusual feature to your dream house, what would it be?
Jenna Burchell
I would remove the house. I would make the whole space a studio with a little lofty bed at the top. So just nicely layers, so no dust gets in there. But essentially, I'll flip my domestic and work situation around.
Paul Ogier
Like, so all the floors would be covered in canvas or like drop sheets, tools everywhere.
Jenna Burchell
Yeah.
Paul Ogier
What is the best gift you've ever received? Either from yourself or from someone else?
Jenna Burchell
Oh, okay. There have definitely been some good ones. You know, I'm going to go for a classic. The best gift I've ever received was a trip to Europe when I was quite young. And my parents said to me, okay, guys, pick three countries you want to go to, and we're going to find a way to make it happen. And that literally changed the course of my entire career. So I would say that's the gift.
Paul Ogier
Okay, what were the three countries you chose?
Jenna Burchell
We went to London - at the time I had never been. We went to Florence and we went to Venice. So the big art capitals in the Europe area.
Paul Ogier
What would you name a pet?
Jenna Burchell
Ah, yes. So I named pets aspirational names. So based on I think like if I hadn't really like fluffy chubby cats, I'd probably make it something really elegant, okay.
Paul Ogier
Yeah, like Mrs Butterball.
Jenna Burchell
No, no, that's not aspirational. Be like, it would be like Gigi, because it's like French and charming.
Paul Ogier
Is it aspirational for you for or the cat?
Jenna Burchell
Well, hopefully, both.
Paul Ogier
Okay. Last question. Do you have a guilty pleasure? Like bad reality TV or something?
Jenna Burchell
Yes, I definitely do. Um, I love to sing all the time. My cat thinks it's revolting. And ironically, even though I have great pitch and great hearing for compositions, the voice did not come along with that.
Paul Ogier
Very sorry to hear that. That's very disappointing.
Jenna Burchell
Thanks. Ja, it is.
Paul Ogier
So to get to the meat of the podcast, I actually just read an interesting article the other day called the rise of technology in art from a website called bareconductive.com. And they talk about 3D printed art and Interactive art and online art and augmented reality and stuff like that.
You include technology, in your art in your sculptures, but you've been doing this since 2007. Has it always been part of your art having the technology included? Or is it something that you involve evolved into?
Jenna Burchell
Yeah, so for me including technology and art started in my honours year of my arts degree, so it's this kind of formative language of my art career that was there from the start, kind of like inescapably. So it's a case of your language chooses you more often than not, in art.
Okay, so I, like often get like painter envy, or like 2D envy, like people who can walk into an art show and just hang something on the wall. I'm like, those bastards. Because, yeah, including tech in art has never ever been an easy thing, especially back in 2007.
Paul Ogier
For the people who are watching this on YouTube, there's going to be a short video clip. But for those who are listening, Jenna, what, what exactly is happening in this in this clip.
Jenna Burchell
So what you're seeing or not seeing in this video is an art piece of mine from a collection called Songsmith. And Songsmith is about embedding these golden instruments into the cracks of objects or the gaps in places.
And in particular, and the one in front of us is a rock that's been found and is in pieces. It's been repaired with a golden seam kind of alluding to that Japanese art of Kintsugi. It's Kintsugi or Kintsukuroi, it's both And so yeah, what I'm doing is using that golden seam as an instrument that's sensing human proximity, and it's allowing the rock to reveal a song. And that is, it's kind of acting like a vessel that holds within a piece of information about the world that's otherwise very hard to access.
In this case, we're hearing the grounds electromagnetism, from beneath where I found the rock, and it kind of comes out as this very whaley, unusual, sometimes discordant song. And so I kind of sometimes call these my singing rocks. And the idea is that when a person approaches a rock and brings their hands near to Songsmith that it sings and reveals the sound.
I think ultimately, the feeling that people get from this is the feeling of time, and the feeling of deep time, like time that's difficult to comprehend and understand. I mean, the recording itself goes down a couple of meters into the earth, which is aeons of time that we're really listening to.
Paul Ogier
The sound that's actually coming out is that the resonance of the rock or the resonance of the person interacting with the rock.
Jenna Burchell
So that is the resonance of the earth from the bigger rock that this tiny piece broke off from. If that makes sense? So like the big whale. The rock is kind of like the tip of the iceberg, but the song is the iceberg under the water.
Paul Ogier
My interaction with you actually goes back further than before I met you. My wife and I saw your singing stones. We've seen the singing rocks at Nirox at a sculpture park in Johannesburg. It was one of the most impactful parts of that sculpture park for us. It was powerful, it was contemplative, it was unusual.
Have you had other people tell you what your artwork has meant to them? Because it's very unusual.
Jenna Burchell
Yeah, and I have a strong belief or working theory in my practice that when something comes from a very authentic place, and it works with the world around you, it works with universal human experience that it allows more people to connect with it. Because it's offering a universal experience, a universal language. And it allows each person to bring their own personal life to the equation, and they will find their own connections to the work, their own meanings to the work.
I've had very, very strong responses to this particular body of work, probably because it was created from a very strong experience in my life. I've had people that are very, I mean, it's taken me aback, often, it's been very surprising. And sometimes I feel I look at that work and I think, did this really come from me. It doesn't really feel like something that I made, it feels like something that was made by many people, and many experiences and many interactions, you know? So yeah, it's big emotions, I guess it really brings people's emotions to the surface.
Paul Ogier
You have mentioned that it comes from a very strong place, it comes from a very powerful place for you. What is that place that it comes from?
Jenna Burchell
So when Songsmith started, which is about five years ago, now, I, I had lost my life partner. And I was going through a major fracture and I had to start looking at how to rebuild who I was and rebuild parts of my life that had been kind of completely inexplicably changed.
Finding these rocks, and these are the subtle things in the work that I feel communicate to us on an intuitive level, is looking at the fractured rocks and working in a golden repair highlighting the fractured bits, like bringing out of the fracture, the greatest story, a more universal story. And, and then offering a song to that story, like one that has connections to the world, connections to life, connections to death, connections to rebuilding.
I don't think there's a single human on this earth that can't relate to that feeling in one way or the other.
Paul Ogier
That's beautiful that the mournful cry of the stones. It gives me goosebumps, it raises the hair on my, not my head on the back of my neck. It's exquisite, it's ethereal, it's yeah, there are so many words to describe it, I'm actually running out of words, it just beautiful. It really is.
Jenna Burchell
I think it's important to note that they are also very joyous.
They celebrate strength and repair. And instead of focusing on the trauma of a break, it rejoices in it and says, there's so much power in highlighting it and rebuilding it, in making it beautiful again.
Again, it's something in a sense, aspirational, speaks towards hope and towards beauty and beauty in the disrepair of something even.
Paul Ogier
So now look, technology is one of those things that we've invented, we've used to record ourselves, our thoughts are speech, our images, using this artwork, and to hear the resonance of the rock, it almost feels like you can hear the resonance of your own body.
And when you interact with it, and normally there's a viewer of art and if you talk about the two dimensional and envy the painting, you have those people stand in front of a painting and you are separate from the artwork - you observe the artwork. With yours, you are observing the artwork as an audience member, but you also then make the artwork come alive when you move your body closer to it. It changes and becomes a performance piece.
Jenna Burchell
Yeah, definitely. It's like you mentioned earlier looking at the company Bare Conductive who they are very strong advocates of getting technology into the hands of people who maybe don't always have access or knowledge or experience with technology, but they encourage that intermingling of life, the world with the digital.
And that's, you know, for me, that's exactly what comes to the forefront in my practice is looking at how can we integrate this man created thing? How can we use it? How can you work with technology work with the digital and integrate into the analogue world in a way, for me that is sensitive, feminine and nurturing? Because for sure, we need to balance the scales of technology used for power, or technology used in extremely masculine ways for corporate use, or whatever it may be. We need a voice that also balances that and says, here are some sensitive ways we can use it. Here are some organic ways we can use it, here are some ways we can integrate it with the world in order to create powerful meaning powerful experiences.
So I mean, I guess one of the big drives for me is looking at using something like technology, and making it feel more natural in the world, and making it feel part of a world instead of not of this world. That makes sense?
Paul Ogier
It does. It does. I think the thing is that your art has almost a transitive property. It's like it's a sculpture and a performance piece. And I think I think that's what technology is for me. I
f you've got a cell phone, the cell phone is just a hunk of plastic and metal and glass and does nothing, it just sits there but when you interact with it becomes a phone and a web browser. I think that's kind of what your art does, too. It's beautiful to look at but it's interactive, and it comes more than what it actually is when you interact with it.
And each person's experience will be different. Was that your intention when you made the sculptures
Jenna Burchell
you know, the intention is a weird placeholder for me, because this was just my natural language and art connecting to people and looking for ways they can connect in return. So the only language that I know is one where people and places and communities are central to my meaning-making.
I don't want any work to, in a sense be completed entirely by myself. It's all work built through a process with other people, it's work shown in a process or, or performance of play with other people. And, you know, sometimes, you know, to keep my sanity, possibly, I call them living sculptures, just to kind of bring my creative mind space around what they are like. The way that they organically perform with their environments, with their physical nature, with the people around them.
And all of those things are in a dance with each other in that kind of performative, interactive dance. And what comes out of that is so situationally dependent.
It's not always guaranteed. There aren't any like hard answers or absolutes in this equation. It's more of an allowance. It's an allowance to let things unfold as they will, and a relinquishing of control over how something will enact in the world how technology might respond to people how people might respond to technology.
Paul Ogier
You use technology differently than a lot of people. When I was on your Instagram, I saw that, that you use electrodes, you've stitched electrodes into a canvas, and you've used the gold and repair on the rocks. What, what kind of tech do you actually use? I mean, what is your favourite type or what inspires you? Or is it just depending on how you wake up in the morning?
Jenna Burchell
So my particular forte, or niche is capacitive technology. So it's always about frequencies and it's always about touch or human proximity. And a lot of the tech I work with is about earthing.
So I'm pretty confident that my work wouldn't really work on Mars, or like the moon. So, you know, maybe my future is a bit limited. But the idea is it's often about our connection with the earth, on a science technological level, and it's about frequencies that run between objects and people.
Paul Ogier
I mean if you were going to get a rock from Mars, the resonance could be quite interesting,
Jenna Burchell
Be a pretty tough job to record that resonance, I suspect. I'd have to, you know, fly to Mars, just take my machinery and do a recording. So.
Paul Ogier
Well, yeah, if you want people to like to donate to a Patreon, or Kickstarter campaign, to get you to Mars...
Jenna Burchell
Send Jenna to Mars.
Paul Ogier
Yeah.
There's always been a saying called the ghost in the machine when talking about computers or bugs or things that happen, a spirit that happens in a machine, whether it's a computer, whether it's mechanical. It's something that's almost unexplained, it's something that you can't put your finger on.
Now you are recalling, or bringing out the sound from this rock or skull, whatever it is, you're bringing out the information that's been buried, you're almost recovering the data, you're recovering information, you're almost an archivist of resonance.
Are you retrieving the past with your art? Or are you creating something brand new?
Jenna Burchell
I really do see it more as a recording, a data gathering, of something that exists.
In a sense, it kind of takes timeline out of the equation very often. And it muddles up ancient history with the present, right now. And yeah, it's like being an archaeologist of data in a way. It's looking at what could be there and asking, how could I capture it? If I can't capture it directly, what kind of metaphor can I use to describe it?
At the moment I have a palette of sound-making. Where most artists have a palette of colours, and they paint with it, for me, it's like a palette of sound making. And I have ways that I work with recordings of the earth and deep time, I have ways of working with the mind and what's going on inside our brains in the present context. And I have ways of recording narratives of life in history.
So each of them has their own way of kind of collecting and revealing data that you know, as you say, we would otherwise have no idea was present.
Paul Ogier
I'm a mathematician, and I'm a coder, and I'm a web designer. So when I'm designing a website, I need to use logic and I use need to use creativity. Your art is almost a convergence of logic and creativity.
Can you take us through a little bit of your artistic process?
Jenna Burchell
Yeah, actually, that's a really great question.
Because, you know, it's when we're looking at things like cognitive behavioural psychology, like the way that our mind functions and problem solves. I spent many years trying to find a way to switch between these mindsets. The mindsets of logic and the mindset of creativity. And at first, this was a very kind of traumatic switching. So I'd be in the studio, and I'd have to go into programming or maths or some type of scientific logic and I would get lost in that process.
But then to switch my mind over to something aesthetic and something conceptual and creative. I mean, they all crossovers, of course, you need creativity to code and to create anything. But in particular, I found that I had two distinctive mindsets happening. And for years, it was quite difficult switching between them until I could kind of easily transition between the two.
What's the benefit of this whole experience is the idea of really bringing the arts mindsets and that conceptual meta-thinking into a space of technology, and also vice versa, bringing technology into the space of arts. You start looking at things more esoterically. And you start asking questions, as you say, what is the ghost in the machine.
I found time and time again, I'll be going down an extremely logical path, integrating with my art and I just hit this wall where the tech is just not performing the way it's been coded to perform. It's not following its script. It's not following all the application notes it should be following.
And especially because I'm pushing tech out of its comfort zone more often than not. Out of its standard use parameters. I'm asking it to do something uncomfortable. And you'll end up with very strange, weird occurrences. That's I mean, I've had artwork running on it on a test late into the night. And like, it was about five of these artworks I was, I was testing over the course of a few days, as you remember this one night waking up to all of them just like singing at the top of their lungs, no apparent reason, nothing wrong with the code. Nothing like had changed some like, yeah, the Ghost in the Machine. It's, it's a very real confrontation for me to accept those things. Things that are meant to be one plus one equals two are not always exactly that
Paul Ogier
the people who have your artwork that I mean, you've got artwork throughout the world. Do you? Do you feel like I don't know, like a mommy or parents are saying that, that says, you have to treat it? Well. I'm sort of, like, I'm not going to sit like allow it to be in your space if you haven't treated well. Is it? Is it that kind of thing? Or does it not have that kind of special connection with you? And
Jenna Burchell
Ja, it's a little bit like that. I don't produce many artworks in a year. It's I mean, they very, very labour-intensive and balancing their ecosystems are, it's a very delicate thing. So definitely, I assess my buyers before selling to them, and they aren't going to live up to my expectations. They can't, they can't buy it. Because at the end of the day, technological art has no precedence in ownership. And by that, I mean for centuries, we've been selling paintings, and we know how to take care of these and maintain them. But when it comes to technological art, this is a very, very new thing in our lives. And people buy it thinking it's just magic, and that it doesn't even need power, or, or it's just going to last forever. And we all know that's not going to be the case of technology, it needs servicing, it needs TLC, it needs maintenance. So when I sell a work, I'm selling a long term relationship. And if people aren't the type people want to have a long term discussion with or interaction with, then definitely I'm not going to sell the work to them.
Paul Ogier
Where do your logic and creativity actually come from? What is it inside of you that's brings this forth?
Jenna Burchell
My dad's a civil engineer, and my mom's a teacher. And I feel like a little crossover between those two genetic packets makes this. And I found, I just found like, a deep curiosity for how things work, and a fascination with making things. But I also have a storyteller within me that wants to find out why something is the way it is. So inevitably, they ended up with this language of, I can't separate technology and sound from my thinking when I'm creating work. If somebody told me to create a work that had neither of those two facets, my brain literally just shuts down. I'm like, ah, but someone tells me to work with it. I have 1,000,001 ideas. And that, for me is always the clearest indication of the direction of the path to follow.
Paul Ogier
Well, your work has technology woven through it, whether it's actually electrodes or electrical currents or anything woven into your work. In your mind, are you taming the tech by putting it inside another piece? Or are you actually setting it free?
Jenna Burchell
Yes, so a good question. I found at first when I started this, this journey that I was trying to tame it. And I was trying to tell it, how it should act, how it should behave, how it should integrate how it should respond to people. And I initially wanted to control every element of that equation, over the years of experience, and I think this is true universally for life, too, is you have to learn to let go of complete control. And especially with technology, I've learned that by embracing those moments of the Ghost in the Machine, by embracing those moments that make no logical sense to me. And working with that, I have found my strongest voice. In fact, the entire songsmith project came from one of the biggest failures I've ever made in my career, like, I had tried to force technology to do something it just couldn't really do. And when I recognized the kind of problem, and I recognized that it was a dead-end of that particular tech application, and so I think Well, how can I use this area to my advantage, and that literally also just started the whole direction of my songsmith technology is working from a place of complete failure with technology, working with its failings, and a time and time and time again, I have experienced that whenever I try and enforce my will upon it, it falls apart, it falls flat, it loses vitality, it loses meaning that when I embrace it, it comes alive. It feels organic, it feels emotional, it feels human. And it's exactly that line that my work always tethers upon. Is it tameable? Is it untameable? Should you tame it? Should you not?
Paul Ogier
It's a that's a very valuable lesson for life as well. You're right. It really is. It's do you, like, do you force things to bend to your will or not? Yeah,
Jenna Burchell
I have actually a great real-world example of this exact equation, resulting in something untamed. And I have a collection of Public Works. Here in Stellenbosch at Spier wine estates is about 12 of my songsmith sculptures out in the field. And, you know, the client would phone me and be like, ah, your rocks are singing. I'm like, well, when are they singing? No, every time it rains every morning when there's dew. So I'm like, okay, I beat my head up for months trying to fix this, this programming error, you know? Then I'm like, No, no, no, wait a second. That's kind of beautiful. Yes. Like, let's let these rocks sing. when it rains. At the time, they were going through like a massive drought. They're just coming out of that. So I'm like, this is a celebration. Let the tech sing.
Paul Ogier
Let the tech sing. I love that. I love that. Thank you, Jenna. Thank you very much. If people want to be able to get hold of you to see your works. Where is the best place to find everything?
Jenna Burchell
You can find me on Instagram @jennburchell and definitely my website, Jenna Burchell.com.
Paul Ogier
That's beautiful. Thank you so much, Jenna, and thank you for your time.
Jenna Burchell
You're welcome. It was fun.
Transcribed by https://otter.ai
Are you looking for a Lifetime Deal LTD for Boei? Check out this deal on AppSumo.
This Taming Tech, The Podcast guest on this episode hails from the Netherlands. Ruben Buijs is a Dutch developer who developed a widget as a side hustle. He has been programming since he was twelve years old.
His widget, Boei, is the Dutch word for buoy. Boei is a quick life line that allows customers to get in contact with you using the platform of their preference.
We started using Boei on our websites soon after its release and are such fans of the product that we reached out to Ruben, who graciously agreed to appear on this podcast.
Ruben's day job is being an IT Consultant for EY where he works on projects in a wide variety of industries. His focus on efficacy is made visible in this service that he has developed.
Some of the topics covered in this episode are:
Benefits of using Boei.
The ideation behind Boei.
Boei versus live chat.
How Boei could replace contact us pages on websites.
What methods Ruben is pursuing to market his side hustle.
The growth and uptake Ruben has seen since he launched six months ago.
Who should listen to this episode?
Anyone who is:
Working on their own side hustle
Developers and programmers
Working on software roadmaps
Bloggers and business owners looking for a simple, effective means of communicating with their audience and customers.
Show Notes
Utrecht https://en.wikipedia.org/wiki/Utrecht
The Hague https://en.wikipedia.org/wiki/The_Hague
Volendam & Marken https://www.saltinourhair.com/netherlands/volendam-marken/
Amsterdam https://www.netherlands-tourism.com/things-amsterdam-ultimate-top-50/
Boei on Twitter https://twitter.com/boeihelp
Ruben Buijs on Twitter https://twitter.com/R_ubenBuijs
Ruben Buijs on LinkedIn https://www.linkedin.com/in/rubenbuijs
Product Lift https://boei.productlift.dev
https://www.indiehackers.com/Ruben88
https://www.producthunt.com
https://betalist.com
Edited Transcript
Paul Ogier
Hi, Reuben, how are you doing?
Ruben Buijs
Hi, Paul. Yeah, I'm very good. How about you?
Paul Ogier
Yeah, I can't complain. It's seven o'clock at night here in South Africa and it's probably about the same time in the Netherlands there. I can see out your window there seems like it's just sort of like Twilight is quite a beautiful shot there.
Ruben Buijs
Yeah, right. It's getting darker and darker. You can still see a little bit of light, but not as much anymore. So the evening is popping up soon.
Paul Ogier
Looks like a beautiful evening there. You are based in the Netherlands.
Ruben Buijs
I'm currently in a very small village, but it's very near to Utrecht which is in the centre of the Netherlands in the middle, basically.
Paul Ogier
My father was actually born in The Hague.
Ruben Buijs
Alright, yeah, that's more on the left side. Yes.
Paul Ogier
I've been to I've been to Holland. I just thoroughly enjoyed it. I enjoyed the canals in Amsterdam and we went all the way up to the North to Volendam and Marken and it was the middle of winter. So it was bloody cold by the North Sea there, but it really is a beautiful country.
Ruben Buijs
Yeah, thanks. Oh, it's always cold, almost. So this is something that you get used to. But of course, yeah, I think if you if people visit the Netherlands, they think it's very beautiful, I would assume. But living there myself I'm thinking everything is very standard. And everything is very, very plain. There's no like no hills or no mountains, etc. So I really like to go to other countries where there are like these big mountains and large hills and nice forests.
Paul Ogier
So it's the old thing of your thing is boring everyone else's exciting. The grass is always greener on the other side.
Ruben Buijs
Yeah, definitely.
Paul Ogier
So what we normally do with this podcast to start off with is we start with a thing called a quick questions. And a quick questions allows the listeners to get to know you quickly. So are you ready?
Ruben Buijs
Yep.
Paul Ogier
What was your first cell phone?
Ruben Buijs
First cell phone a Nokia 3310. I'm not sure how you pronounce it in English.
Paul Ogier
Yes, that's fine. That's perfect. It's going to be Nokia 3310s and the cockroaches that are left at the end of the world.
Ruben Buijs
Yeah, definitely. It was so so strong. It was an awesome phone. Because you when you had that phone, you were like, the best kid at school so to say. So if you had it, you could pop in these ring tones with dialling in all the other tunes, you can find them online was an amazing time. But I actually had to save a lot of money at the time to to get one but I was very happy to have one at the end. Yeah.
Paul Ogier
I think you could change the front and the back covers and even do the leather covers to protect it. I thought that was just a waste of time because even if you did drop it, you just put them back together again.
Ruben Buijs
Yeah, it was almost unbreakable. I really wanted to have like all these flashy ones. They were quite expensive actually. In the end, they just had the regular blue one, but it was a cool phone.
Paul Ogier
Okay, so you live in the Netherlands as we've spoken about. Have you ever been out of the country? What other countries have you visited?
Ruben Buijs
Quite a lot, actually. So of course, most of the countries in Europe. I've visited France, Germany, Luxembourg, Spain, Portugal, Greece, Italy, but also some other countries. So I've been to Bosnia, my girlfriend is from, from Bosnia. So I visited that place very interesting. Last year, I visited China just before the COVID and the year before I went to Peru, Vietnam quite a lot of places which is really awesome. Yeah, I really like to go just to totally different cultural experience and really enjoyed it.
Paul Ogier
I'm very jealous of some countries which you mentioned. I'm itching to go as soon as COVID is over and we're allowed to travel again I'm on an aeroplane. So what do you consider yourself very good at?
Ruben Buijs
I am a very quick learner I would say. So that's also the thing that I have to do in my regular day job. Each day I have to learn almost something new and really dive into that very quickly and help. I'm in consultancy, right so I'm helping clients to deal with their problems and getting those results as soon as possible.
Paul Ogier
So we'll get into that just now but you're a consultant for Ernest & Young. Yeah. What are you doing with them? What are you consulting?
Ruben Buijs
I'm actually in the IT consulting area. But although it is quite flexible, so at the moment, I'm supporting a client with transaction reporting. So there's more of regulatory activity on a previous project, I've done something around accounting, so it's also more of a regulatory. But I've also supported large, IT transformations. I'm also supporting and helping clients in Agile transformation. And I really like that to become more agile, more flexible. And I've done IT strategies, quite a lot of things actually.
Paul Ogier
Okay, so you're fairly well rounded. You're good at a bunch of skills. Next quick question. If there are 25 hours in a day, how would you spend your extra hour?
Ruben Buijs
That's an interesting question. Because, we actually had that recently, right, because normally, I was travelling quite a lot with to clients, and even had a client in The Hague, which you mentioned before. The Hague, Utrecht that's around one hour drive, maybe 130. So that's quite a lot of hours in the car.
When COVID came in, everybody had to work from home. So you had lots of additional time. But it was actually consumed fairly So I just sleep in a little bit more longer. That's also quite nice. But yeah, also with work.
I really enjoy programming, just really a hobby of mine. And so that's something that I really like to do. Do I feel at the moment, there's an extra hour? No. You get used to it so fast. So that's annoying. But that would be great if you had to have that additional hour again.
Paul Ogier
I'm going from our first in-person, client meeting, next week and it actually feels weird. I'm gonna have to put on grownup clothes and I'm going to have to get into the car, and I'm gonna have to drive. Instead of going on to zoom for like two minutes before I have to plan to drive half an hour beforehand.
It's very weird how you get used to these things so quickly.
You've mentioned you do programming. So that gets us on to what we're actually talking about here. You've got a plugin, an app, a service? How would you describe it?
Ruben Buijs
I would say it's a widget that you can use when you're on your website, so plug and play widget, for social conversations. So when somebody is on your, on your website he's looking to contact you.
I would often like to have the option of what I like, right? Sometimes you see live chat, sometimes you'll see email, whatever. But as a person, I really like WhatsApp, or maybe somebody else likes Facebook Messenger. And I enjoy to reach out to companies in that same method that I like, instead of using something else. And that's also what I like to do to give to my users a possibility to provide all of the contact methods that they have that they really like, so that their visitors, the visitors of my website can use it.
Paul Ogier
I think this is the reason why I really enjoy your service. It's called Boei and which is a Dutch word for a life preserver a thing to throw in the ocean if someone's drowning. Buoy for the British speakers or buoy for the American speakers.
I like this the service because we're using it on our websites and I really enjoy the fact that I don't have to have another service. I don't have to select Sign up with another company. I've already got WhatsApp on my phone. I already have Facebook Messenger on my phone. I already have Slack, for instance, on my phone. So if I want to have those particular things I can then communicate through these exact same platforms that I'm used to.
You've been running this for what, six months now? Five, six months?
Ruben Buijs
Yes. Something like that.
Paul Ogier
I don't know of any other place that has done this before. I think it's just, it's brilliantly clever. It's very, very simple. And how did you come up with this? Were you irritated by people not having what you wanted on their website? How did it actually happen?
Ruben Buijs
Yeah, I was thinking about this idea for a while, actually. I think even maybe more than two years. And I always felt okay, yeah, it's coo but it's more of a nice to have. Not sure if we really want to want to dive into it. At some moment, I thought, okay, let's just do it.
I'm doing developing, like as a hobby, right. So, yeah, I thought, okay, why not do something that I really like? And so I just went for it, made a simple version, and posted it online. And people were very interested and very enthusiastic about it. I never had this much interest in anything I ever developed. So why not continue with it? And that's basically how it all started.
And yet, it's still the same. Whenever I post it, I still get a lot of people that are very interested in it. They think it's a very cool solution. Very simple, but very cool. And they really like to use it on on their website. So that's really helping me and convincing me.
Paul Ogier
Look, I think I think the thing that's amazing is that you've got the simplistic elements like, going straight into a WhatsApp, going straight into a Facebook Messenger, going straight into a Twitter DM or a Snapchat DM but you also have the more advanced things, you've got webhooks, and you've got the ability to sign up for newsletters, you've got contact forms. Where does it where does it end? Where does it become too complex for what you're actually looking at doing?
Ruben Buijs
Yeah, so I'm not sure if it's really, at some moment is getting too complex. So I made the solution very modular. So all of the things that I'm building, I can easily recreate and change it and build something behind the wheels or behind what everybody sees on the technical side is quite similar. And yeah, at the moment, I don't really see an end. So if somebody would say, okay, I like to have this in this service I'd happy to add that.
I also gave it a little bit of thought and I think it, I would like to look at Zapier. It's quite a different company, much bigger, etc. but yeah, the way that how they are operating, that really makes sense to me.
So providing lots of possibilities, lots of options that everybody likes, and you can connect all the information and a bunch of data together to provide the best experience for your user.
Paul Ogier
I think that that's Zapier is a beautiful company to model yourself after because they've got thousands of interactions between thousands of interactions, and the fact that you can actually have those interactions and you can have someone having, I saw that if you sign up with a newsletter, you can also have it ping you on your Slack, you can also have it sending you an email. I'd love to say that there was an end, but actually don't think that there should be. There are so many things that you can do with it. And, and
I might like to just have WhatsApp on my website and say that's how people contact me but other people might want six different options.
You've even got the ability to have Calendly linked, and I love Calendly. I think that's brilliant in terms of connecting people and making appointments.
What is your typical client? Is it a lean Startup? Is it someone who's had a website for years?
Ruben Buijs
Yeah, so at the moment, what I really see, like a large percentage of users are typically designers. Apparently, they really like it. And I would say personal blogs. But it's probably also due to the fact that I did some marketing, but mostly for these kinds of people.
I haven't marketed directly to websites or so those kinds of areas or those kinds of businesses, I've not really done that yet. So I would say there's also a lot of benefits for them.
I recently saw a German website sign up and recently also had a Greece company sign up on an I think it was an e-commerce store. So there's like tons of people that are just finding out about Boei and they want to add it to the website.
I think the more people see it on websites the more awareness it will create about Boei and that's also the way I see it growing, I see people clicking that link and, and going to Boei to create their own.
Paul Ogier
Correct me if I'm wrong...so there's a plugin that you load up on your website, which pulls information from your platform that says this is the links that they've got and this is how you can connect them on WhatsApp but basically everything is hosted from your website. And then it updates from your platform.
Ruben Buijs
Yeah, so it's something like that not completely because most of it is hosted in the browser itself, right. So when a visitor is loading the website for the first time here, then, of course, everything is coming from me. So the script is identifying which websites it's come and then identifies which button is connected to that and loads that button. And then at that moment, it will store it in the browser's cache. So when a user is reloading the website, they don't go to Boei anymore, they just have that already stored in their cache. So it really loads fast. And you don't have internet, you're not looking at the website. And then after a while, I think that's 15 minutes, something like that. It tries to read, we get the newest data and the latest files. So if there's a change in between, you don't see it immediately. But after 15 minutes, you will see,
Paul Ogier
What I've done is I've actually tested because I do like to have a huge amount of speed on my websites, I don't like external loading of external JavaScript. And I've stripped everything down my Google Analytics as part of the Tag Manager, my Facebook pixels by the Tag Manager. So it reduces as much stuff as possible. And in terms of the loading time, I try and make it as fast as possible. And what I found with your widget, your plugin, your service, is that it is really, really fast. And it doesn't, I would say it's like ads, half a millisecond or three milliseconds if that. And from my testing, I've opened an incognito window, I've deleted cache. And it's very, very fast. How do you manage that? How do you make it that fast? Are you using your code stripped down as a code optimized? I assume it is.
Ruben Buijs
Yeah, it is. It is it is optimized. So I'm using a couple of optimizers, minifies. They will automatically run when they compile the code. So basically, I'm writing down all in, in JavaScript and I have a couple of minifiers and compilers that are just generating like a smaller code, making it really small, by moving out of the commas, all those kinds of things, but also the code itself. Yeah, it is quite small, actually, I've made it as smart as possible. And I reuse a lot of the things so for example if you have like six, six buttons on it, six helpers that code will only load once for all of the six so there was one piece of code that front six of those helpers. So you don't have a lot of repeating cultures.
Paul Ogier
That's very clever because I've looked at some of your helpers and you have helpers for call me back, contact form, Discord, Facebook Messenger, Twitter, Snapchat, Intercom, Instagram, I mean, the list goes on. So the fact that you can repeat some of that code is as beautiful.
Can you tell us stats about which is the most popular helper?
Ruben Buijs
Yeah, of course. I made that analysis very recently, actually. The interesting thing is that the most common is just email. So a lot of people are still using email. Of course, email is a convenient method. And if you if you're using Boei, I also added email. So if somebody wants to use email that's fine. Second most used is WhatsApp. So lots of people are using WhatsApp to reach out to their users. The third one is Facebook Messenger.
Paul Ogier
The difference between using a WhatsApp and a live chat, because live chats often irritate the crap out of me, is that with the live chats you have to keep your tab open. And you have to remember that this is making noise over here or not. And sometimes the live chats don't have the ability to have it on your phone.
WhatsApp, it's also brilliant, I think for startups who have one person who's either the CEO or the founder or something like that, and they are managing the support calls and they don't have to sit in front of the support ticket system the whole time.
Ruben Buijs
Yeah, I also think live chat is really annoying. I do not really like it. And that's because sometimes you don't get a reply. So sometimes it says, okay, you get a reply within a couple of minutes, then you wait a couple of minutes, and you don't get a reply. So that's really annoying. Then sometimes, you did get a reply, but you did not see it in time. So the live chat person has already gone again. That's also something that is really annoying to me. And also, you have to keep the tab open. So I'm constantly reminding myself, which I don't like, kay, I have this tab open, check this to see if what's going on.
And with WhatsApp, and basically all the other options, I'm using it daily with my friends and my family, coworkers. So having that open is no issue for me. And I really enjoy just sending out a message. And I'm happy to wait a couple of hours to get a reply. That's no issue for me.
Paul Ogier
Yeah, it's in someone else's queue now, so they need to get you. Yes.
Ruben Buijs
Yeah. And also the other way around. So last week, I was eating lunch here at my home, and I got a message on WhatsApp. This was from one of my one of our newest customers. And she has a couple of issues where she needed some help. Let's help her in like a couple of minutes and then see how it goes. And she was really pinging me back and asking more questions. And we really got it resolved in like a couple of minutes.
And if you compare it, for example, to email, if I got an email, I really need to think about it. We didn't type a nicely drafted answer, etc. And now I just fix it up and in a couple of minutes. And then later today I saw that she created a similar account with the same URL. So I thought, okay, maybe something went wrong. So I still had the WhatsApp so I opened it up and asked her about it. And she said, no, it's fine. It's working well and I've created an account for a friend of mine.
And also these things make it made it very personal because I could open her picture, see who she was, where she's coming from, etc. So yeah, it makes it much more personal than just a random email or live chat.
Paul Ogier
The thing that I think you touched on there about the email... I think what we found with COVID is that people are more forgiving. Do you have a dog barking in the background? Are your children running around? It's almost like we have lost the facade of, I'm not going to say professionalism, but almost like we're not human. And, and I think that when you're talking about the fact that people email and you have to then email back, there's almost something in the email about the fact that you have to type an email a certain way. On Whatsapp, Facebook Messenger, it's different. You can go back quickly on WhatsApp and say let me just check or two seconds or whatever.
Ruben Buijs
Yeah, of course, it is dependent on what kind of customers you have. Right? So if you are if you're dealing with large enterprise customers with many different departments, etc. okay, maybe it makes sense to send an email because then you are dealing with smaller companies. Then those are also normal people who are working there. So they also really like WhatsApp or Facebook Messenger or those kinds of platforms. So reaching out with them in that way makes sense, I would say.
Paul Ogier
And if you're dealing with a company, I don't know the size of Amazon or something like that, you don't expect the personal response you expect to be put into a queue to have your support ticket to come back in 48 hours, whatever it is, when you're dealing with small people, you actually want to deal with a small company.
Ruben Buijs
Yeah, but also for Amazon, of course, it depends on what kind of company you have. In the Netherlands, we have a large e-commerce store, which is competing with Amazon and they really focus on personal support, personal help, so you always know who is replying. They also provide Facebook, Whatsapp, all of these options. They really make it, the most critical thing is to have personalized service, and they have like a slogan of providing a smile for you every day. And that, I would say is a future way of working or future wave of customer service than doing it incognito or making it very standoffish.
Okay, we got this big company so you get a standardized email. No, it's, yes I'm a customer so you need to help me in the way that I want to do it.
Paul Ogier
Yeah, absolutely.
What kind of platforms are people putting the widget on? Is it mainly WordPress? I mean, you can do Shopify ghosts, there's so many of them that you can do. What is your the highest used platform?
Ruben Buijs
Yeah, so number one is a custom made website. A lot of people are using it are, of course, as I said earlier, web designers so they also make websites that are custom made.
And the other one is WordPress. Also probably because I've done digital marketing on the platform and created a nice plugin for it. So everybody had it available for downloading. And when you're searching on WordPress, you can just easily type in chat and you get Boei. So then the people are going to try it out and see what it's about. And it's like a search engine. And that really works well and people trying it out and then installing it for a couple of times.
Paul Ogier
So you guys have been running for six months now. How many installs have you had? Do you have stats that you can give us?
Ruben Buijs
Yeah, sure. So at the moment, we have 277 accounts. So almost 300 and we helped 18,000 visitors 18,000 people, were visiting a website that had a Boei button on it and then clicked that on the Boei button to get some support.
Paul Ogier
Okay, so with the interactions, you can obviously check that as well. I think that's one of the things that I enjoy about it. I've had people communicate with me and by WhatsApp and Facebook Messenger and email and you see that the trajectory of interactions that are actually happening on your graph and on your platform, which I like. It makes my heart a little bit happy to go on it and look, all those people are interacting.
Ruben Buijs
So at the moment, it's quite limited. You only have to graph you can see how many interactions there are. But the data behind it, I'm saving a little bit more. So I'm also working on extending that overview to see okay, what kind of helpers are people using? What are the stats this week compared to last week? Where are people coming from which countries so those kinds of things I'm going to implement very soon to get also those analytics there, which will help.
I think there is some chance that there are some differences between countries. Some countries are using different platforms than others. I know that in China they have a very large platform which unfortunately they haven't made it open for foreigners basically. But I know that in the Netherlands, almost everybody is using WhatsApp and probably in other countries it's very different. So then you can also see the differences in each country and if you do like a worldwide service, you can also maybe in the future, determine, okay, which countries are being serviced on which platforms.
Paul Ogier
You guys in the Netherlands are part of the EU so you're under the GDPR regulations. So, obviously, being part of those regulations, you're not going to have data that can be accessed. So what are you doing to protect people's privacy? Because I think that is obviously one of the most important things, even if other countries don't have as an as exciting thing as the GDPR.
Ruben Buijs
No, of course, I think privacy is really important. When I'm visiting a website, I want to be, I want to be sure that my privacy is, is being kept safe. So all our data is anonymous. So if you fill in the contact form, you need to provide your email address, those things are not saved. That will only be sent to the company that owns the button.
So I'm tracking some anonymous statistics, and we're doing some analytics on those. I think one part of the GDPR is that you're able to request all of the data that you have from a company. I'm hiding a lot of the data.
So instead of using an IP, which is considered personal data, I'm using something else to determine which visitors so you don't have like an IP that is used.
I'm not using cookies. I don't like cookies, and the cookie banners are really making me crazy at the moment. In the Netherlands, every site that you open, you get a cookie banner. And now I think that Apple made a change so, for some reason, they are removing cookies, like in a couple of days. So each time you visit the website, again, you have to click on the cookie banner again to accept it. It's really annoying. So I don't like cookies. I'm not using cookies. So those are the things I am doing on my side to protect the privacy of my clients and also the visitors.
Paul Ogier
I appreciate that. In South Africa, we've got a thing called the POPI act which it's just come into effect now. So we've taken a lot of things from the GDPR that we obviously need to have. So yes, we also have the cookie banners and things like that. And we kind of just have it for everyone.
As you've mentioned, you have done a bit of marketing on this. I actually found you on Reddit, when you posted to one of the subs. And when I was looking back to figure out which sub it was in I see you posted to probably about five or six subs. What has worked the best for you in terms of your marketing is Reddit, is it direct emails?
Ruben Buijs
Yeah, that's also something that I need to find out myself.
So I really like developing, that's something I'm very comfortable with. With marketing, I'm much less comfortable. So yeah, I posted on Reddit, because I read most of the people are on Reddit. I'm actually not on Reddit that much. And but as you can see I posted messages in a couple of subreddits. I also did some advertising on Reddit.
I haven't found the ideal method. I was really getting a lot of traction like 14 new signups from one post in Reddit but then the post got deleted because apparently, it was not in line with their policy. So that was too bad because a lot of people were liking it and it was like really going well.
I've also seen some traction from Indie Hackers, also BetaList was really helped me a lot. I haven't posted it yet on a Product Hunt. But I understood that it can go really well or it can go badly.
I also found that all these things that I'm mentioning are mostly aimed at developers. So people like me, and I'm not really sure if that's my target audience. So the target audience is probably more somebody that has a website but is not able to update it themselves. Or maybe he's able to install a WordPress blog plugin, and those kinds of things can really help a person to get started. Really technical guys, someone who maybe can make it themselves, that's fine, that's fine for me but those are not my ideal customers. So that's also something that I need to work on, I need to find out where my customers are.
I've noted that people that are using WordPress are really interested in the plugin. So, for example, I need to go to YouTube, find out which kind of YouTube videos there are around WordPress plugins or write a blog post around it. But yeah, all these kinds of marketing activities, it takes quite some time to do them.
So sometimes I have some time to do that, also some willingness because I do it all. So I don't want to spend full time on marketing.
Paul Ogier
0n Product Hunt, for instance, there are developers and I'm a developer, and I'm a coder and I work on custom-built sites, or even if I do a WordPress site, there are so many things that I have to do, this just makes it easier to achieve the goal of communication.
And I feel like that some people are actually almost moving away from a contact page, they are doing pages that are more relevant and a contact page is almost becoming a little bit obsolete. Obviously, people need to be contacted and having your plugin as a "contact page" that allows people to actually have it done very quickly and easily.
I think that you might be wrong about that developers are not your target market. I think developers are trying to get things done as fast as possible and as cleanly as possible.
And if you're developing stuff, I would definitely go with the Product Hunt. I would reach out to YouTubers who do reviews of plugins. Yeah, I would definitely I definitely reach out. There might be ways to cross-promote or things like that.
Ruben Buijs
Yeah, definitely. So there's also something that's on my wishing list.
There's only what you said earlier, only a limited amount of time each day, that you can work that you can do something and doing something that really makes a difference. Finding that sweet sweet spot is, is difficult. At least I need to balance between something, which I think this is really cool and I really want to do it.
I'm currently working on automated emails to get like a weekly report. So that's something I found this very cool and very interesting. But yeah, going and finding out who my users are, where they're coming from, how can I get more of those specific users. That's something I do not do enough of. So I really like to have personal contact with somebody that's using it but finding someone new, that's something more difficult.
Paul Ogier
You're talking about sending out email newsletters once a week for with stats. I saw that, obviously, on your roadmap and I'm excited about that but, I'm okay with it because I can log into the platform and see what's actually happening in my interactions.
What is your favourite feature that you've seen in the roadmap, that you kind of go I hope people vote for that one because that's exactly what I want to do? What's the one that's like is nagging at you?
Ruben Buijs
That's an interesting question.
So the roadmap thing is also another product of mine that I'm also I'm working on which is called product lift. So it's a roadmap software and I really like to have to know what kind of features people like so of course, I'm able to think about something and I can post in the roadmap and I often get some emails of people saying can you add this feature.
But I would like to know who is liking which feature? What is most important for you to focus on. Also with the known limited number of hours in each day. So, yeah, I'm searching a little bit because, on the one hand, I would like to have these votes but on the other hand, people need to really go to the roadmap and open it up and vote on it.
So, for example, one here is provide a current user's email address so you don't have to type it in anymore. If you would like it and you vote for it then you automatically will be kept informed about that about a specific feature. And when it's ready, my system will automatically email the people that have voted for that feature so they immediately know it's no available and they can use it.
Paul Ogier
I think it's really nice, obviously, there are lots of platforms that you can select, you can vote on, and people can have it on GitHub and things like that but I really like the simplicity of it again. The end-user who wants to put it onto WordPress will go, well, this is nice and simple. I can figure this out.
You've got your simplicity, and ease of use, throughout all your products that you develop. I'm really enjoying that.
Ruben Buijs
Thanks. Yeah, I was just looking at the roadmap, but actually, I don't think that there's any more that I think is that's super, super cool because when it was there, I developed it. Also when somebody is really asking me please develop this, then it will just go very high to my list of making this feature. Unless I think okay, this is not in line. This is not for this product, or I should not do this right, then, of course, I'm not doing it. But then other than that, I'm almost working on it the next day.
Paul Ogier
This is a side hustle for you, you currently still working for Ernst & Young, how do people get hold of you? How do people get hold of you in terms of getting your platform? And to talk to you about this product? What is the best way for people to get hold of you?
Ruben Buijs
Yeah, I would say using the Boei button on my, my website.
Paul Ogier
Good answer!
Ruben Buijs
It's the most convenient one. There, you can select the method that you would like to contact me. Myself, I like all of them because otherwise, I wouldn't put them on but I'm most active on WhatsApp.
Paul Ogier
The website is boei.help and then there is your Boei button on the website and WhatsApp is the top one. And your email address is [email protected] Okay, perfect. Well, thank you so much for taking the time out of your day to talk to us.
Ruben Buijs
Yeah, thanks for inviting me. It was nice to be here. It was good fun to do this.
Paul Ogier
Perfect. Thanks so much.
In this episode of Taming Tech, The Podcast we speak to Mareli Pottas from Dube & Pottas Inc.
Mareli is the Co-founder and Operations Manager of Dube & Pottas Inc., a private practice of medical social workers based in Johannesburg and operating from hospitals in Johannesburg and surrounding areas in Gauteng, South Africa.
Established in 2015, Dube & Pottas has grown from a few staff to 23 staff members in 28 hospitals in 5 years.
In this podcast Paul Ogier and Mareli Pottas talk about:
How this private company has intelligently used technology to simplify operations, manage staff in multiple locations and scale with the growth of the company.
How as frontline staff at the forefront of the COVID fight they have expanded their use of technology to overcome restrictions and obstacles to maintain their company's operational requirements.
How their existing technology solutions enable them to go above and beyond in their treatment and support of their patients and their families who are often separated by distance and COVID protocols.
How they have utilised online training to onboard staff.
Who should listen to this episode?
Anyone who is interested in learning more about:
Ideas on how to start and grow a company without spending a fortune on IT infrastructure or IT support staff.
What a medical social worker does.
How health professionals are managing their stress levels and prioritising their mental health.
Related Courses
Show Notes
Mareli Pottas on LinkedIn https://www.linkedin.com/in/mareli-pottas-2a1652137/
Email for Dube Pottas [email protected]
Telephone for Dube Pottas +27 11 489 1341
What Are Medical Social Workers? https://www.mswguide.org/careers/medical-social-work/
University of Pretoria: UP At its inception on 10 February 1908 the University of Pretoria was known as the "Transvaal Universiteits kollege" (T.U.K.) or the Transvaal University College. This was the origin of the name "Tuks", as used by the students and has been used in connection with the University ever since. https://www.up.ac.za/
Exclaimer cloud Signatures https://www.osh.co.za/exclaimer-cloud-signatures/
Edited Transcript
Paul Ogier
Howzit, Mareli, how are you doing?
Mareli Pottas
I'm fine. thanks and you?
Paul Ogier
I'm fine, thanks. I'm not running around in hospitals. I'm working from home today. So everything's good. Unlike you. You said you are at home now but you have been at hospitals I assume.
Mareli Pottas
Yes. working from home.
Paul Ogier
We normally do quick questions to allow the listeners to understand who you are and get a little bit of a background about you quite quickly. So quick questions quickly. Here we go.
Are you a morning person or night person?
Mareli Pottas
Definitely a morning person.
Paul Ogier
Okay, so you're one of those irritating people that jump out of bed and go hello morning and you have birds tweeting around your head like a bloody Disney Princess.
Mareli Pottas
Yeah, in fact, when I was a child, my parents didn't have to wake me up for school.
Paul Ogier
God, that's terrible. That's terrible.
If you could eliminate one thing from your daily routine, what would it be and why?
Mareli Pottas
So, I am not the average Afrikaans girl that likes to cook. If I didn't have to cook tonight. That would be awesome.
Paul Ogier
Is it? Is it the cooking thing? Or is it finding ideas and inspiration on what to cook?
Mareli Pottas
Yeah, I'm not really good at it. Not really interested in it. And yeah, just don't like it.
Paul Ogier
Okay, so do your kids like to entertain themselves and feed themselves?
Mareli Pottas
We do appreciate the occasional takeaway as well.
Paul Ogier
I think that during the lockdown, it was one of the things that frustrated me. It's Friday, I'd like to have some takeaway, and I just couldn't do it. And you have to cook seven days a week, three times a day.
What is the best piece of advice that you've ever been given?
Mareli Pottas
One of my parents told me that when you feel down and off when you're not having a good day and you feel like you want to just wear tracksuits, wash your hair, put on your prettiest dress, put in the effort with your hair and your makeup and your day will turn out better. And I've been doing that all my life. And I think it does make a difference.
Paul Ogier
Well, I'm going to take that under my wing. I'm not going to do the makeup yet. I'll ease into that, I think.
What is your favourite piece of technology?
Mareli Pottas
Well, currently, it is my Samsung S20 note phone, which is brand new. And I love it. I love it.
Paul Ogier
What do you love about it? The size of the screen? The fact that it says Samsung along the top?
Mareli Pottas
Well, it takes the most amazing pictures. I do like the size. But yeah, I'm sure that I'm probably not even using half of what I can use it for. My teenagers are very, very jealous.
Paul Ogier
My mother had an amazing computer that was handed down by us to her as a second-hand computer for her to check her emails. And she always used the expression. It's like she's sitting in a Ferrari playing with the radio. So that might be the same thing with your phone.
And what was your first computer experience?
Mareli Pottas
Eish, I'm going to have to reveal my age?
Paul Ogier
It's okay. It's a safe space. No one is listening.
Mareli Pottas
Probably at varsity. I wasn't that into them because as a social worker, it's not really, you know, part of your job until much later.
Paul Ogier
And now that you've got your new phone, have you already set it up with a different cell phone wallpaper? Or are you still on the default wallpaper?
Mareli Pottas
No, no, no, I change my wallpaper every second day.
Paul Ogier
No. Why?
Mareli Pottas
Because I love it. I am quite a sucker for little motivational quotes and there are hundreds of free wallpapers that you can download. And one is nicer than the other so let's change it every day you open your phone.
Paul Ogier
Okay, so what is your current one?
So it's just a bright, sparkly one with flowers, and that's very tie-dye '70s '60s love is all around kind of wallpaper.
Okay, so getting to the meat and potatoes of the podcast. What on earth is a medical social worker? What's the difference between a medical social worker, which is what you guys, and a "normal social worker"?
Mareli Pottas
Ja. A social worker advocates for the less fortunate, vulnerable people and we try to enhance their social circumstances. The welfare social workers, they would take children away that's being abused. So we don't do any of those things.
We also don't have statutory rights, which means that you can't go to court. So the medical social worker enhances the patient's social circumstances, but we focus on the illness. So we educate them, and we put them in contact with all kinds of resources so that when they go home, they are safe and their family can look after them.
Paul Ogier
I think, normally, our hospitals are a terrifying experience, you don't know exactly what's happening, the doctor might not have the best bedside manner. And they're using words that you don't understand. And people are coming into the room and injecting you with stuff all the time.
And now with COVID, it's even worse, because you can't have your person next to you. You can't have your support, your spouse, your children, your family next to you. So are you emotional support as well?
Mareli Pottas
Ja I think we can be seen as the link between the family, the patient and the hospital. And the hospital means everyone working there from doctor to physio to whoever treats the patient. Just giving them a lot of education and supporting them emotionally to get through it.
Paul Ogier
So there's a lot of communication that's actually in your job. So the hospital is stressful being a social worker is stressful and your staff are in various different hospitals in and around Gauteng, in South Africa. And they often are the only social worker in that hospital. So I mean, that's stressful.
And now, again, with COVID, on top of that, you guys can't even meet them and get together. And so my question is, you only had your first in-person meeting two days ago? How do you coordinate with your staff? How do you talk to your staff? How do you manage a company when you've everyone in so many different places?
Mareli Pottas
We used to meet with them before COVID. But since we just have to use the technology that we have.
So social workers, our profession, we have to have supervision, that means that you discuss your cases with a more experienced social worker. So my business partner fills that role in our practice. And she sees every social worker every week, and they can then discuss their cases with her but also it gives them an opportunity to offload and debrief with her about everything that they've experienced.
Paul Ogier
Yeah, so guys doing that via Google meet?
Mareli Pottas
So she used to do it in person, she would go to each hospital, visit them once a week. According to a calendar, but now in the last six months, we've been using Hangouts.
Paul Ogier
Okay. Cool. And how is she doing? I do know that Monica, your business partner is older. How old is Monica?
Mareli Pottas
She's 70. So she's very experienced,our social workers are very privileged to learn from her. And I'm very proud to say that she has managed to use hangouts very well.
The only frustration is, you know, the Wi-Fi connection. But she is on her calendar, and meeting with them every week, seeing them face to face. She said, it's very hard when they sometimes sit and cry in the office alone and she can't touch them and give them a hug. But ja, the fact that she could see their face makes a difference.
Paul Ogier
How do you guys manage these kinds of stresses for yourself and your staff?
Mareli Pottas
I think we practice what we preach, which is that you need to talk to people when things are too much. So, they do talk to us, we give them time off, we made sure that all our staff took leave sometime during COVID. We forced them to just take a bit of time off.
We arrange regular group debriefing sessions with psychologists and if they need individual sessions. But because Monica is such an experienced social worker with about 40 years of experience, and she also has a master's degree, she's very good, and she's got close relationships with them so she helps them deal with their feelings.
We have quite a young staff so most of them are fit and eat healthily and do sports because I think in our profession, it's something that we encourage patients to do. But it's also something that we do because it is quite a stressful job.
Paul Ogier
You guys started your company five years ago?
Mareli Pottas
Yes, June 2015.
Paul Ogier
Okay, so five years ago, and in that time, you guys have grown dramatically. You started with just one or two people in one hospital? And how many hospitals and how many staff now?
Mareli Pottas
So we have 23 staff and we're in 28 hospitals.
Paul Ogier
You guys are in different hospitals and you've got so many different people to deal with. How has technology managed to keep up with this growth?
Mareli Pottas
I can't even imagine doing it without technology.
We are dependent on referrals to make money and we get referrals via WhatsApp or emails.
The social workers have cell phones, and also laptops, but you can't have your laptop open at the hospital all the time so that's where Google Drive has been really great because most of them have their emails on their phones. If there's an urgent referral they can see it immediately and not when they get back to their laptop or even when they get home.
I think that has also helped us to communicate with each other and with families.
I just can't imagine them doing this job without technology.
Paul Ogier
Obviously, emails on your phone are important.
You guys are dealing with people who are in distress, they're emotional, they're alone in the hospital and they need to have someone there. You use email, Google Drive and there are the calendars that you share with each other. It seems like you guys are actually using a lot of the cloud functionality of G Suite.
In the last couple of days, it's not called G Suite anymore, it's now called Google Workspace.
Normally, a person would be at work and then they'd have to stay at work to do all their admin. you guys are now more flexible. They're at work, they can work on their phones, they can work on their laptops or do their admin at home.
If you guys had servers that were on a specific site, it wouldn't be as easy for your staff to work.
Mareli Pottas
We work with other practices and there are some very smart, very expensive programs for allied health professionals out there, which I don't even know about. For us, this has been amazing.
We need to do daily stats, which our staff do in a spreadsheet and we even share those with our external company that does our billing. We've created a folder that they have access to get our stats so that we don't have to export them.
And then if there's a mistake a staff member needs to be able to change that quickly so that it doesn't hold up our billings. So that's very nice.
And to have all the forms, the emails, and all the files that we are sharing available you can have access to anything you need to do quickly. The other day, I was at a coffee shop, and one of the social workers needed an urgent letter from me. I could go into the drive, write something on our letterhead and share it with her and she could go to the doctor with that. So that's been amazing.
Paul Ogier
Often when people talk to me they say there are two options for email productivity: Office 365 or Microsoft 365 and G Suite or Workspace, which would you recommend?
And, it depends on what your staff complement looks like and what your needs are. I think the thing that's interesting with you is that you do have a fairly young staff and your staff have all grown up having a Gmail address, they've all grown up with everything cloud-based. So, I think for you guys the Google G Suite implementation has been easier than something like Microsoft 365 because your staff have already bought into the ecosystem?
Mareli Pottas
Ja, I think, most of the universities are using it as well. Tukkies does.
When we started using it, before we did your courses, our staff taught us a few things. I think they all enjoy it a lot.
Most of our staff use Hangouts chat. So that's how they communicate. When the admin girls want documents from them, or they want stats done or whatever, we basically communicate on that. So that's also nice.
Paul Ogier
I think that the thing that's also nice is you did speak about the fact that other practices have software that they use and software can be a hell of an outlay in terms of capital and it's something that a lot of small companies can't handle.
And what you guys have done is you've said we've got five people so we'll have five email addresses and then when you've got 10 people and you have 10 email addresses that scale with you. So the more people that you have everything scales with it, which is nice.
And you also don't use any onsite IT people to come and install Word or come and install Excel. So that helps a lot.
Is there one product that you use more than anything else?
Mareli Pottas
So I think for communicating with families anddoctors at the hospitals, definitely emails
Since COVID we've also used WhatsApp calls and Hangouts to communicate with families because we were the people in the hospital so they would like to see their family members as no one was allowed to visit. So we found many people have Gmail addresses, or maybe they don't have it, but it's an easy free thing to create.
So we use that quite a lot so that they could actually see the person in the hospital. And I think that was very rewarding for us but also families have really appreciated that quite a lot, just to see that their Father is still okay. And that the patient can also speak to their families.
I'm so used to the Hangouts meetings that even though we had our first staff meeting, you know, two days ago, which was very nice to see people, it's still very good to have hangouts meetings. You don't have to drive. Especially with Monica, going forward, she wouldn't ever go back to seeing them week by week, because of the expense of petrol and also timewise. Driving from one to the other. It's just so much easier.
And also for the staff, it's better for planning because she's not stuck in traffic. So that just opened our world quite a lot.
Paul Ogier
When your staff started, there were some that were battling a little bit with G Suite or using the products. You guys did one of the courses that we put together on Udemy and use it to train your staff. So how many of your staff have done the courses and has it improved their confidence?
Mareli Pottas
Mostly the admin girls did it and it definitely helped them a lot. I found that they actually taught others to do certain things because they found the right way.
And then with our staff meeting, now, we give them other tips. I'm going to show you how to do this, or how to do that. So at the staff meeting, because we can share the screen, I would also show them, this is how you can do this. So we've been training them.
Not just G Suite but also how you showed us how to do WhatsApp on your computer has also helped all of them as well.
Paul Ogier
I think if you have a specific thing that works properly for your company, then it does make it easier to say, okay, you guys, we're all doing this one thing, this is the best way to do it. And then everyone's on the same page. So that's great that you're using the course, and some practical experience to make it better for you guys.
I find a lot of companies say this is what we're doing but they don't.And I think the fact that you guys are actually putting stuff into practice and saying this is how we're all doing it, even though some people might be resistant to it, I think that's a good thing.
Mareli Pottas
Yeah, they have to organize all their files the way I like them.
Paul Ogier
But you've also been doing this for a long time so you understand the concept of folder structures so it does make sense. And they might roll their eyes at you but at some point, they might not.
Paul Ogier
You guys are obviously on the front line. You've been working through COVID and working in the ICUs. At the bottom of every single one of your emails have a signature that has your name, your telephone number, latest banner, like brain injury awareness banner but I think my favourite part about your signature is that you've got a photograph of each and every one of your social workers. Does it help?
Mareli Pottas
I think that is one of the most amazing things. Not all my staff like it, especially because they're young, so some of them have asked me in the space of three months to change the photo, change the photo in there, change that hair.
But we have had so many compliments from other companies that this is just amazing. The social workers themselves have said that it has helped them so much because they would email a doctor to say I've seen this patient, can I come and fetch a referral letter? And as they walk into the reception the doctor's PA would recognize them so it's a nice way of starting communication.
Basically, it's just it makes it more personal. This is the person that you're speaking to, you can see that this is who Mareli is. It's helped us a lot.
Initially, they really didn't like it. Some of them have asked me can they not have a photo and I just said no, this is how we do it. We have a designer that does the photos nicely. They're all black and white, so they look very professional.
We've had a lot of comments.
Paul Ogier
I understand you started in PR. Do you feel like this signature at the bottom of your emails is almost a homage, a harkening back to your start in PR? It's about bringing the PR to social work?
Mareli Pottas
I was a social worker and then I went into PR, and back because I had the opportunity to do this practice. But interestingly, just a random fact, quite a lot of my friends that are social workers went into PR, because PR is basically building relationships. And I think when you're a social worker you are very empathetic and compassionate. So it's one of the things that we're supposed to be good at is building relationships with people.
I do like doing marketing so I think it was part of the idea to do this.
Paul Ogier
What is the next thing for you? What is going to happen in the future for Mareli Pottas?
Mareli Pottas
I think that when I started this, I would never have thought that we would grow this much.
The hospital group said they're going to outsource the service. The two of us knew each other because we both worked at the hospital and we decided we're going to start a practice together. I think she had a bigger vision than me because I was happy to just stay at one hospital and have a few social workers working for us. And yeah, we just grew so much. I think her vision is to go even further than Gauteng and I think it would be great to put social work on the map in the medical field because it's not a very common thing in South Africa.
Paul Ogier
Look, I mean, I personally think that you're an inspiration for aspiring entrepreneurs. You started a business and have grown a business. You and your staff often deal with people on their worst days, and I hope you hear this a lot, but thank you for the work and the service that you do.
Mareli Pottas
We see quite a lot of very sad, dramatic things, but it's nice that you know that you can make a difference.
Paul Ogier
Final thing where can people get hold of you?
Mareli Pottas
Okay, so the email address is [email protected]
Paul Ogier
I'll put this into the show notes as well.
Mareli Pottas
Okay, and then our telephone number is (011) 489-1341
Paul Ogier
Perfect that's on the South African code +27. Yeah. Perfect. Thank you so much, Mareli. I really appreciate you talking to us.
Transcribed by https://otter.ai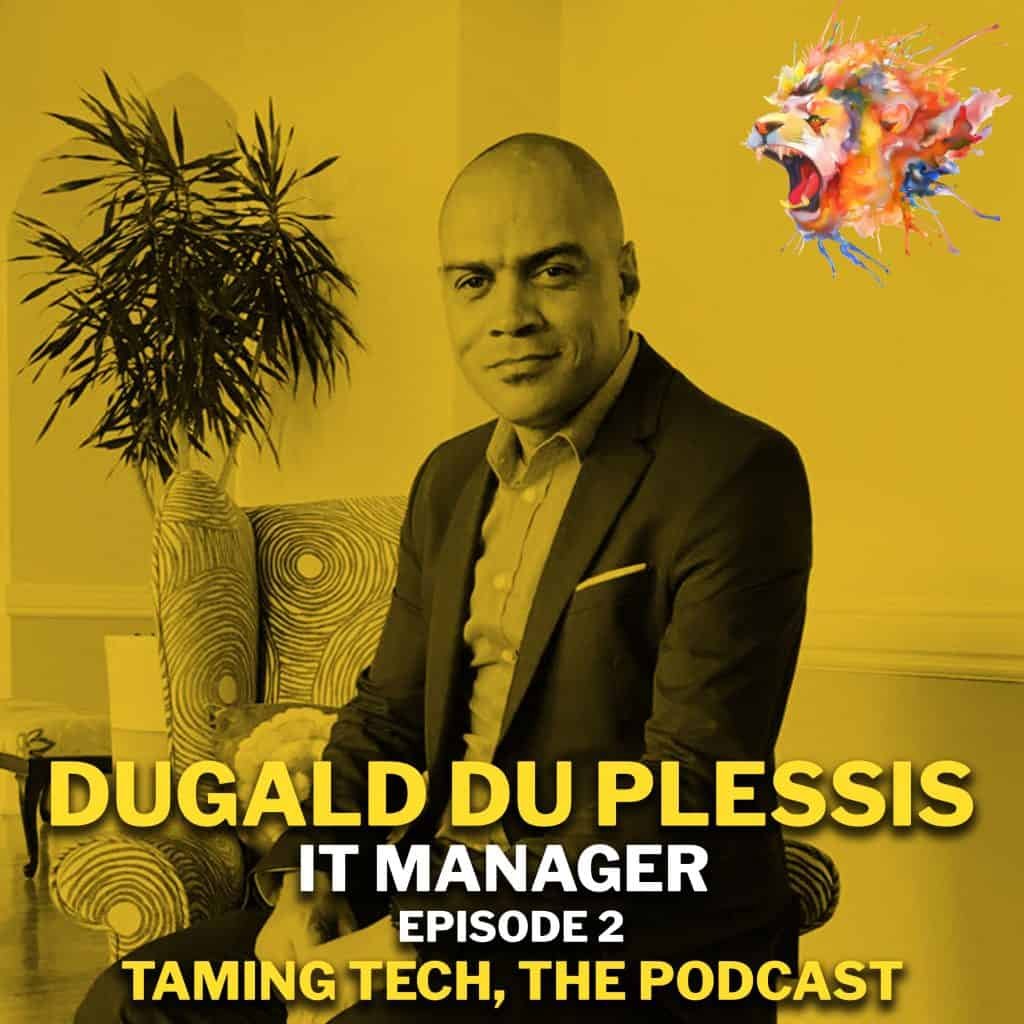 Dugald has been the IT Manager at Tourvest Destination Management (TDM) since 2008. TDM offers a diverse portfolio of travel products and is part of the Tourvest Holdings (Pty) Ltd group of companies.
In this episode of Taming Tech, The Podcast, Paul Ogier speaks to Dugald du Plessis about two recent IT projects:
How TDM planned and managed the untangling of shared IT infrastructure with their sister company, Tourvest Travel Services, to enable an autonomous structure that supported their operational requirements.
Their approach to migrating TDM from on-prem Microsoft Exchange to Microsoft 365.
Who should listen to this episode?
Anyone who is considering, involved in or interested in:
How to go about separating shared IT infrastructure.
The planning, testing, elements involved and the lessons learned in an unbundling of IT framework.
The lessons learned in migrating from on-prem Microsoft Exchange to Microsoft 365.
Show Notes
Tourvest Destination Management website https://www.tourvestdm.com/
Tourvest Destination Management on LinkedIn https://www.linkedin.com/company/tourvest-destination-management/
Tourvest Destination Management on Facebook https://www.facebook.com/tourvestdm
Tourvest Destination Management on Twitter https://twitter.com/tourvestdm
Tourvest Destination Management on Instagram https://www.instagram.com/tourvestdm/
Dugald du Plessis on LinkedIn https://www.linkedin.com/in/dugald-du-plessis-819995131/

How many countries in Africa? 54 https://www.worldometers.info/geography/how-many-countries-in-africa/
What does Split Domain Name System (Split DNS) mean? https://www.techopedia.com/definition/1346/split-domain-name-system-split-dns
What is MPLS: What you need to know about multi-protocol label switching https://www.networkworld.com/article/2297171/network-security-mpls-explained.html
IP security (IPSec) https://www.geeksforgeeks.org/ip-security-ipsec/
User Profile Wizard Release 20 https://www.forensit.com/domain-migration.html
Active Directory Migration Tool (ADMT) Guide: Migrating and Restructuring Active Directory Domains https://www.microsoft.com/en-za/download/details.aspx?id=19188
FortiGate Next-Generation Firewalls https://www.fortinet.com/products/next-generation-firewall
Juniper Firewalls https://www.juniper.net/us/en/solutions/security/next-gen-firewall/
Kruger National Park https://www.sanparks.org/parks/kruger/
Edited Transcript
Paul Ogier
Howzit, Dugald, how are you doing?
Dugald du Plessis
Hi there, Paul. All, good. Thank you very much. Your side?
Paul Ogier
Ja, can't complain.
I've got my first in-person meeting happening next week, and I haven't had an in-person meeting in six or seven months. I'm used to this whole new normal and doing these zoom calls and having an in-person meeting is going to be a bit weird. But
Dugald du Plessis
I'm also used to virtual meetings, but I do go into the office, every now and again, I won't say regularly.
Paul Ogier
We like to start off each of these podcast episodes with a couple of quick questions. Just an icebreaker to get people onto the same page and get to know a little bit about you.
Android versus iOS, which is your preference?
Dugald du Plessis
iOS.
Paul Ogier
And social networks? Which one do you use? Are you a Facebook person? Are you on Reddit?
Dugald du Plessis
I'm not a Facebook person. I do have an account though. I'm more of an Instagram person, Twitter, that sort of thing. So yes, I want to control the people that I follow. You know, where I can draw energy from. So I don't necessarily want to see what Paul is eating today and where Paul is going tomorrow. Hence I stick to Instagram and Twitter.
Paul Ogier
Are you a real book, ebook or an audiobook kind of guy?
Dugald du Plessis
Give me a real book. Real newspaper. I like the feel of the book of a newspaper. I don't know what it is about it. But, ja, give me something that I can hold.
Paul Ogier
Okay, so the nostalgia element, the smell, the weight?
Dugald du Plessis
Absolutely, absolutely. So the smell of a newspaper. I just love that smell of a new book. There's just something about it. So yes, I'm not an ebook person, strangely enough. I lose concentration when I read an ebook. Give me something that I can hold.
Paul Ogier
Well, I think there's the danger element when you've got a real book. If you're lying in bed and you're reading a real book. If you fall asleep, it is gonna crack you on the head. So there's a danger.
Dugald du Plessis
It could be it. Could be. No, definitely, definitely a real book. I just love the feel of it, yes, and the smell of it.
Paul Ogier
Okay, last great TV show or movie that you've watched?
Dugald du Plessis
More of a series person. Movies, you know, nowadays, I watch all the kiddies' movies.
Paul Ogier
So Barbie goes to playschool or something like that.
Dugald du Plessis
Yes, yes, yes. But more the boy stuff. So yes. But, ja, I'm into series. And sports. I love my sports.
Paul Ogier
Okay, what sports? Cricket, rugby?
Dugald du Plessis
Cricket, rugby, golf, you name it. I flip through all the sports channels. It has been a bit of a challenge over the past seven or seven or eight months. They have no sports on the TV or live sport that is. So but ja, these things are picking up again.
Paul Ogier
Okay, well, I can watch rugby I can watch from cricket. I don't think I've ever understood the point of watching golf.
Dugald du Plessis
You just follow the ball. That's all.
Paul Ogier
Last one, if you could have an unlimited supply of one thing for the rest of your life, what would that be?
Dugald du Plessis
I think that would be love, Paul. I just feel that everyone needs love and an abundance thereof. So yes, whether it's love from family members, friends, you know everyone just wants love and I think love just makes the world a better place.
Paul Ogier
So obviously in the preparation for this podcast, I stalked you a little bit on LinkedIn. And I saw that before Tourvest Destination Management, you worked for a provincial hospital.
Are you happy working under that kind of stress? I mean, you worked in a hospital, you're now working in a corporate environment. Stress is obviously part of what you do. How do you cope with that?
Dugald du Plessis
I try to stay calm in stressful situations. Look, when something goes down, whether it's in hospital, or whether it's in the travel industry that I'm working in now for Tourvest Destination Management when something goes down, it's stressful.
I try and focus on the task at hand, and not think so much of the impact it has got. Look, the systems that we controlled at the hospital didn't really impact lives as such, you know. But, yes, it's part of the service that you're delivering.
Obviously, you try and keep level headed because that's the best way to look at a problem. I don't know how I really do it, to be honest with you. A lot of people tell me, I'm very, very calm in stressful situations. But yes I just try and focus on the task at hand.
Unless I watch sports. That's a completely different story.
I think that's just the type of person that I am. I stay calm. Obviously, some people know which buttons to press but generally, I am just a calm person.
Paul Ogier
So you've been at Tourvest Destination Management now for 12 years. In 2008 everything was on-prem, and the internet wasn't great. What are the changes that you've seen in those 12 years at Tourvest?
Dugald du Plessis
The entire network has changed. Like you say, the internet wasn't great at the time. I remember when I started at Tourvest Destination Management we had a link of, I think it was a 1Mg link, and gee at the time, we thought it was fast, we thought it was flying. We had a lot of dial-up connections, you know, to other branches, etc. So the network has changed completely.
I remember when I started there, we had a problem with the exchange, almost every week. It was stressful.
If I look back, from the time that I joined to now and what we've got, and what we've changed, we've literally changed everything. From the links, the entire network design. The servers that we've used, all of those, as you mentioned, everything is in the cloud.
And that is where we intend to move now. So we've also moved a lot of our services into the cloud because that's the future. That's the new way of doing IT.
Paul Ogier
And when you started there was probably like a server room in each of your locations. What are those server rooms being used for now? Are they still on-prem servers in there? Are there just the routers?
Dugald du Plessis
So yes we do have the server rooms at all our branches. We've still got our file server there and our storage. Of course, those are obviously things that we're looking at moving into the cloud at the moment.
So we've taken our first step, we've moved our mail into the Cloud. So next is our file server. So we've adopted the cloud solution as such. So Office 365, those sort of things that are all the technologies we're looking at, we were planning this year on moving all our infrastructure, that's our head office, Tourvest Destination Management, head office, all our infrastructure into the cloud, and then COVID hit. So that's obviously put a spanner in the works.
So that is still our future plan, definitely moving all our services into the cloud, into Azure, using all the Office 365 functionalities. So yes, that is our plan.
Paul Ogier
So you've just done a project where you've separated two companies. You've separated ADs, you've changed from Exchange server to Office 365. That's a massive project. And then you've got COVID, and you've got running normal day to day things. Why did you actually do this?
Dugald du Plessis
We needed to split our domain. We had a wide area network that we shared with our sister company Tourvest Travel Services.
At the time, we wanted to align our ITs and our infrastructure. At the time it was working, it was working great. I normally explain to people or service providers that we were happily married, it was a happy divorce, but we needed to do divorce just purely because of different business requirements.
We didn't want to hold each other back with technologies. We've shared a lot of infrastructure together like our firewalls, our active directory, the Exchange servers, APN, VPN, all of those infrastructures. It was very difficult for us to make changes answer wanted to go a certain route without having an impact in Tourvest Travel Services, and, and vice versa.
So we needed to split the infrastructure, the domains, etc. so that we can go our way and they go their way.
It's Still a very good relationship. It's just purely from a business point of view we have different requirements and business needs.
Paul Ogier
So I think that the quote of this podcast so far is "happily divorced".
The planning involved in that must have been ridiculous. You must have started planning this a year ago?
Dugald du Plessis
We did. It was about a year before the project actually kicked off that we started planning because we needed to understand what it is that we want to do and want to achieve and then have a roadmap. How are we going to get to that goal or that dream?
We had to redesign our entire WAN. What are we going to do in South Africa? Are we still going to go with an MPLS network? Cross border, are we going to go MPLS? Do we know cross border MPLS is costly? So are we going to go IPsec tunnels? Are we going to go SD-WAN what are we going to do? And at the end of the day, you know, we put down that dream on the board. And we said, how are we going to achieve this dream? Or are we going to turn this dream into reality?
We mapped out step by step the different subnets that we were going to use.
In East Africa, we've got offices in Uganda, in Kenya, we've got two offices in Nairobi and Mombasa. We've got Tanzania, all of those basically draw services or get certain services from Nairobi. So are we gonna design the network or that and then have that traffic back all the way to South Africa? Are we going to go the IPsec tunnels, is there going to be a specific hub in those regional offices, that's going to be called the core site?
So a lot of planning went into this and it was a massive project for us.
So we carefully planned it and we tested, then we planned and we tested and when we weren't happy, we deleted the entire configuration. And we went back to the whiteboard and redesigned it and retested and all of that.
It was an exciting project. I must say. It wasn't easy. We had our challenges, of course. But at the end of the day, I think it was successful.
Paul Ogier
We'll come back to the challenges just now.
And the rest of Africa that you guys operating in? How does the internet look in the rest of Africa? Here in South Africa, we've got fibre. I've got a 100Mbps internet at my house but what does the rest of Africa look like?
I mean, if you're talking about MPLS, you're talking about IPsec, you need to have a decent enough internet to be able to handle those kinds of connections.
Dugald du Plessis
The internet connection is quite stable there. They've got good connectivity up there. It obviously depends where in Africa you are but in all those countries where we've got a presence, the internet connection is, I won't say cheap, but it's, it's comparable with South Africa's.
And it's stable. I can't remember when last we had a link down in any of our offices in Africa. So they've got quite a good connection, or connectivity up there.
As I said, it's as good as South Africa's in some of those countries, it's even cheaper than what it is in South Africa. So yes, we don't have any problems with internet connectivity in any of those countries.
Paul Ogier
And you're doing IPsec and some of the countries you're not doing anything like SD-WAN or anything?
Dugald du Plessis
We wanted to go SD-WAN and we thought the technology is a little bit new, maybe we should wait with it. And we just went IPsec all the way back to our core site in South Africa.
So whenever we go cross border we're going to go IPsec. So SD-WAN is where you've got different connectivities. Together with your firewall, you bundle those two, those connectivities into one and you can then obviously parse across the two etc. So yes, it's basically functional on your firewalls as such, where you can go with different service providers, and you can bundle that into one connection as such.
Paul Ogier
So how did you plan for flexibility? How do you plan for the fact that in five years time, you might want to move away from IPsec or go to SD-WAN? It might go all the way back to how to name a new Active Directory? What kind of planning is involved to get that kind of flexibility going in the future?
Dugald du Plessis
So we sat around the table or around the whiteboard.
And, funny enough, you mentioned the AD name. It's easy just to go to the acronym TDM and there you go but because we are a multi-branded company, we've got a lot of domains.
So we needed to make sure that we don't end up with a situation where we've got split DNS. We wanted to keep our internal DNS completely separate to our external DNA. So we needed to think carefully about what we're going to call our domain. Are we going to go with a subdomain? Or are we just going to go with a domain that's registered that we know we are not using but that we've registered it? What are we going to do there?
So there was a lot of planning, exactly the same way with connectivity to our other branches. Are we going to go IPC? If we want to change it, how easy would we be able to change it? What sort of firewalls are we going to go with? We needed to do to think carefully about, because what we said is that if we want to change anything in the next 10 years, we should be able to do so whether it be our firewalls, our active directory, our internet connectivity, or the method in which we could make to our active directory, all of that we needed to take into consideration.
So yes, a lot of planning around those topics. And we needed to make sure that if we want to change anything in the next 10 years, for instance, how easy would it be for us to change? Look, we will never know whether we've got all those answers right until we hit something along the line where we want to implement something or we want to change something and it might not be that easy to change, or to implement.
Paul Ogier
One of my favourite parts about splitting an AD or starting an AD from scratch is the blank slate. The designing of the OU structure and figuring everything out the security groups and that stuff.
You're dealing with how many staff?
Dugald du Plessis
So we migrated call it about 750 users and easily 10,000 objects.
Paul Ogier
You see now that starts getting exponentially more and more challenging. I mean, I don't want to sound weird, but how big is your whiteboard?
Dugald du Plessis
And I'm very pedantic when it comes to my Active Directory. As you mentioned, having a clean Active Directory that's what everyone wants. And we know how easily it can run away with you. So for instance, the Office 365 groups, if you create a team now, or a SharePoint site that it creates an API to that back into your active looks. It really irks me it makes my blood boil If I see what those groups look like. So it's those sort of things.
I love it a clean Active Directory because I want to go into my Active Directory, I want to be able to see exactly any object anything that looks weird, and it's easy to pinpoint where a problem is if you've got a clean Active Directory and not having to go and look for something.
Paul Ogier
Absolutely.
So we were speaking earlier about the challenges, what are some of the challenges that you had in the migration?
Dugald du Plessis
One of the biggest challenges, Paul, was ADMT.
We used the Active Directory Migration Tool in combination with another tool Profile Wizz. That ADMT tool just stopped working for no reason. You would be busy with a massive, massive migration of, let's call it, you know, 1000 objects, and halfway through, it will just bomb out. And you don't know where it stopped.
Paul Ogier
With no real reason, with no explanation, nothing?
Dugald du Plessis
No information, nothing.
They give you a lock file. And that lock file is about, you know, 100 pages, and now to sift through that and find the problem is going to take you forever. So that tool would just stop working for no apparent reason, then you would, and it's not just as easy, as you know, opening it up and carrying on.
So it would stop working and we'd have to reconfigure that tool basically from scratch. It happened about two or three times with us during a migration.
So that was the biggest challenge, I would say.
Also, another one was security translation.
So wherever we got those big file servers we ran the security translation on the ADMT tool. So that's taking all your permissions across or migrating all your permissions to the new domain, using the same file server. Some of those security translations just didn't filter through.
It would do half of it or a quarter of it. And, you know, you're never gonna find out, up until obviously, someone complains that I don't have access to this.
So at the biggest sites, we've got big file servers. That was a bit of a problem for us, maybe I had to, you know, basically wait for someone to complain and say I don't have access to this folder or that file, etc, and then having to go and redo the permissions on those specific directories.
So those were quite, you know, big challenges for us.
Also the amount of downtime that we had. Obviously, there would be downtime because we changed the old PLs, or we changed the entire IPsec and in so doing the switch over required downtime. So, you know, you only realize when it's Sunday evening, 10 o'clock, that you're gonna run out of time. And Monday morning, everyone's back at the office. So those were the challenges that we had.
I think they had like three profiles that just completed lost those profiles, user profiles that is, so where the profile didn't work, the ADMT tool didn't work. It would do the migration, you could say the migration is successful, when you log into that machine, that profile is just gone, it would be creating a new profile, basically, for you.
So, yes, those were the sort of challenges that we faced.
Paul Ogier
With the migrating of the profiles, with the migrating of the ADs, the things that didn't work, were you able to trace back anything that's said, well, these are profiles that we created on Windows 2008, R2 or something. And those are the three that didn't come across properly? Or was it just random things that that happened?
Dugald du Plessis
It was just random.
So when we hit the second one, we wanted to look for similarities between the two machines, is it you know, using the same operating system and the same version of that operating system? Windows updates, those sort of things? We looked at basically everything. And we could not find anything, we could have missed it, maybe. But we could not find anything to say that this is the exact reason why this particular profile did not migrate across
Paul Ogier
How many staff actually were part of this, that that helped out with the move, whether it's at your premises in Sandton, or you've got at your other branches? So how many, how many are you looking at?
Dugald du Plessis
So at our branch, in Sandton, we used seven of our staff.
So throughout the entire project, it was mainly the infrastructure team that worked on this, because it's mainly the Active Directory, the WAN.
When it came to the actual migrations of the machines, we used all our internal IT resources at all the sites. So we've basically made use of everyone that we've got when it came to the actual migration of the user machines.
On the higher level, so you know, the object migration, your security groups, your distribution lists, your user migrations, those sort of things, it was mainly the infrastructure staff that dealt with that.
Paul Ogier
What would you recommend to people who are planning something like this move? If people are separating from other companies, of people are looking to go from on-prem exchange to Office 365, or Microsoft 365, as they're calling it now, what would your advice be?
Dugald du Plessis
I would say plan. Make sure that you're not just doing this migration for the sake of it. Ask yourself why do I want to do this? What do I want to achieve? Then map out how you want to achieve that dream or that goal?
It's something that needs careful planning, careful planning and testing. I cannot emphasize that enough is the planning and the testing, it needs to be spot on. It really needs to be spot on and your testing is not just two to three machines. Really do your testing, proper properties and see what happens on your DNS level.
Make sure that you don't sit with a situation where you have split DNS, think about the name of your Active Directory, and think about how that will tie in if you've got plans to move into office 365. Will your tenant name be the same as your active directory name, think carefully about those sort of things.
That's the sort of advice that I can give others. We've been through the pain and yes, as I said, it was an exciting project, it really was.
Paul Ogier
So how has this impacted on your IT team or your infrastructure team? Instead of having people that were working on exchange the whole time, you've now got Office 365? Have you redeployed them? Are they retrained? What does the team look like now?
Dugald du Plessis
It hasn't really changed. It's still the same team, but I would say they are multi-skilled.
Now instead of only focusing on Active Directory, that same person is looking at the Active Directory, the firewall and Exchange Online, those sort of things.
It has helped us in terms of upskilling the staff. They are multi-skilled now across all those sectors, Active Directory, on-prem, Azure, Exchange Online, etc.
So, yes, it has really helped us a lot in terms of skills development.
Paul Ogier
Now that you've got a nice clean Active Directory, you've got Office 365, you've got your firewalls, you've got your MPLS, your IPsec is it simpler? Is the way that you are managing your network simpler?
Dugald du Plessis
It definitely feels better. And that's most probably because we are in control of our own destiny now.
Is it easier to manage? I don't know. As I mentioned, we shared infrastructure and some of those responsibilities didn't lie with us as TDM. It was with TTS. So for instance, the firewall, we never managed the firewall. It was a role and responsibility on the Tourvest Travel Services side. Now that obviously sits with us. So it's more responsibility.
Is it easier to manage? Yes, it is, because when we want something done, we don't have to wait for someone at the Tourvest Travel Services side to get a gap and do it for us. We obviously jump straight into it. But it's definitely more responsibility that's for sure.
It feels good to be able to manage your own services. As I said, you're in control of your own destiny.
Paul Ogier
The migration of the AD, there are obviously tools to do that even though they're not the perfect tools. And to migrate the firewall, what was that like? Because firewalls, there are rules by the hundreds of thousands, there are ports that are open, there are redirect rules, there's everything. What firewalls are you on right now?
Dugald du Plessis
We currently use Fortigate firewalls.
We shared a firewall with Tourvest Travel Services. That was a Juniper.
So the migration of the firewalls that was quite fun. It took us about a week to just do the rules. I'm not exaggerating here.
So we had one set of external IP addresses and one subnet as such. So we needed to make sure that moving across we take all our services of the firewall rules of the firewall and need to implement that on outside, but with a new set of subnets that have been given to us by our service providers. So it's still the same service provider but they now needed to split that out for us. So that was quite fun.
It literally took us about a week and with this there is no real tool to help. You do get tools that they claim that it works. We have tried a couple and I can tell you now it does not work as well as what they claim.
So a lot of it was manual. We needed to set up that firewall basically from scratch. And we don't just have five or 10 rules on that firewall, we've got literally hundreds and hundreds of rules. We needed to plan carefully for that as well because you cannot really go and test that on a test environment because it's live services that are running on that.
You're actually only going to find that out when you implement those rules. So we've created all those rules and put a new site onto this new Active Directory and MPLS. We needed to go and test all these rules to make sure and that's is impossible to test every single rule.
But we needed to test the main services that filtering through all the traffic that's filtering through that firewall, so we were able to do that as we brought a site live on the new MPLS we could test certain services. So I can tell you that that was a lot of fun. That was a lot of fun.
Paul Ogier
Well, I think I think if you're looking at some sort of tool to export all of the rules from the old firewall, putting them on the new one, you've got to split between your company and Tourvest Travel Services, and they've got certain rules, you've got certain rules, and Juniper going to Fortigate I think it actually might be simpler to do it manually. Secondly, it might be cleaner to do it manually?
Dugald du Plessis
Correct.
So that's exactly what we did. We exported all our rules that had on the Juniper firewall and we went through those rules, line by line. Actually, we did an audit on all our rules to ask ourselves do we still need this rule? Do we still need this service? Do we still need this virtual domain?
And once we were happy, we then went to the new firewall, and we implemented on the new firewall.
Paul Ogier
Now obviously you're talking about testing on a firewall with live things which is much more challenging. Were you doing the testing, before the migration, on your servers, connecting endpoints to the servers, where there's actually real machines, or were you doing it all virtual machines?
Dugald du Plessis
We set up a test AD.
At first, we built a test environment for us. We had a test AD on there and we tested with virtual machines. We tested with actual physical machines as well. What better way than to test in with your own machine because then you're going to feel the pain if something is not working.
We built our test environment, and we built it and then we deleted it, and then we rebuilt it because then we were not happy with something and then we deleted it. We weren't happy with the DNS. we deleted it and all those sorts of things, we were not happy with this subnet that we've created on our DNS, for instance, then we deleted it. And that's how we tested with physical machines and with virtual machines.
Once we were happy with our new environment and we said, this is how we're going to build it, this is what we're going to call the domain. This is what our Active Directory will look like. These are the services that will run on our domain controllers. These are all the points where we have domain controllers or the sites where we'll have domain controllers. This is where our primary domain controller will be this is where our secondary will be. These are the subnets that we will use at those sites. And this is our replication will work on an Active Directory level.
So yes a lot of planning and a lot of testing went into it.
Paul Ogier
Now that this is up and running what kind of change management do you have going forward? Like if someone wants to add a user and they're not spelt right or how their email addresses are formed? What kind of change management are you looking at so that it doesn't mess with your beautiful AD?
Dugald du Plessis
Let's say a new user starts or new staff member starts and we get that new user form. So that gets filled in by HR. It goes through our HR system, and it automatically then logs a request on the support portal on outside, and the guys literally copy and paste, because, you know, it's easy to make a spelling mistake when we type it out.
So we basically go copy and paste but based on the change control that we've got we are looking at implementing new procedures now where we give the ability to for our human capital or HR department so that they can create those users and as they fill it in out on the HR system it automatically gets written into the AD. With the proper control, of course, in place so that it gets approved by one of the IT staff members.
The turnaround times would obviously then improve. Then they would be able to disable and enable accounts. When someone leaves HR is obviously the first to know about it and you can then set an expiry on that user account and it will then do everything in Active Directory together and write it through to do the Office 365 or Microsoft 365, and delete that mailbox in Exchange Online, etc.
So we're looking at implementing all those sorts of changes on our side.
Paul Ogier
Ja, look with the change management, if you said to me, HR was going to be in control, it just terrifies the hell out of me. So I'm pleased you put in the change management approvals because having someone else touching my AD, freaks me out.
Dugald du Plessis
No, as I mentioned, we're very pedantic about our active directory. So any system that we implement and if we hear that thing writes back to AD, we want to know why we can not change that. We want one-directional from AD `to whichever system. We don't want it to write back to our active directory.
Those Office 365 groups and the way they are, and then there's no way to stop that was when we needed to create a distribution list. I don't know why Microsoft could not have done it differently. But maybe those changes are still coming. But at the moment, I'm not happy with what some of those Office 365 groups.
Paul Ogier
So you are dealing with tourism, and you're dealing with your partners. How do you collate all this information? I mean, you're doing accommodation and adventure travel and group travel and logistics management and a whole bunch of other things. How do you collate all that information into some sort manageable platform that people can actually deal with and interact with?
Dugald du Plessis
So we've got a lot of systems in place, Paul. For me as the IT manager, it's important to make sure that we've got the platform or the infrastructure to support those systems. But yes, we've got a lot of systems in place that would deal with all those scenario.
I'm not really involved in the system side of things as I'm on the infrastructure side. So my job is to make sure that we've got the infrastructure to support those systems.
Paul Ogier
Okay, your job as IT manager for Tourvest Destination Management is supporting the travel industry of South Africa the travel industry of Africa. That is a beautiful thing to be a part of. I love South Africa. I love travelling through Africa. Have you realized that your role's actually impacting on people's fun times their holidays, their experience of our country?
Dugald du Plessis
So, yes, Paul, I do realize that I do play a role behind the scenes. I do play a role in making someone else's dream reality and it's a good feeling you being part of that puzzle. We've got such a beautiful country. I just want people to visit our country and see the beauty in not only our country but the continent. So yes it is a nice feeling.
Paul Ogier
I'm gonna put you on the spot. What where would you recommend our listeners come to? Is it our shorelines? Is it our bush? What would you suggest to them?
Dugald du Plessis
For me, I just love the bush. My wife's not gonna agree with me there butI just love the bush so the Kruger National Park is always a winner. I love the Kruger especially the Sabi riverside.
Paul Ogier
Where would your wife go?
Dugald du Plessis
My wife would go to the beach. She's a beach person. Give her the beach any day of the week and she'll happily go.
Paul Ogier
The West Coast, East Coast, Durban, Cape Town, Eastern Cape?
Dugald du Plessis
So for my wife the Western Cape side definitely. She loves the Western Cape. Especially the southern cape. The Western Cape's water is a little bit cold. You know the Garden Route, Mossel Bay, Knysna, George, that area.
Paul Ogier
Beautiful, beautiful areas. Thank you, Dugald, that was brilliant. And thank you for sharing your experiences with us. I'm not jealous of the fact that you just went through this. I'm jealous of the fact that you've got a nice beautiful AD. What advice would you give to anyone who's listening to this and wants to get to where Dugald is?
Dugald du Plessis
As IT people, we always tend to want to do everything. I want to look after the exchange, I want to be networking, I want to be in programming. For me, it's about finding your first love. What is it that I want to do? You need to specialize in something so I cannot be a programmer and network administrator. Find what it is that you love or where your passion is. Once you've discovered that then map out a direction for yourself.
Where do you want to specialize in? Is it infrastructure? Do you want to specialize in securities and firewalling? What is it that I want to specialize in? So find what it is that you love, or what you want to specialize in and then take it from there.
Paul Ogier
Brilliant. Dugald, thank you so much. Where can we get hold of you? Where can we get hold of Tourvest? And how do we get more information about you guys?
Dugald du Plessis
So we've got a website www.tourvestdm.com and all our information is on the website. I'm personally on Instagram, and Tourvest Destination Management also an Instagram page. We're on Twitter, we basically on all the social media platforms, you'll find all the information I obviously don't know all those handles, but you will find all the information on our website.
Paul Ogier
Perfect. I'll put them into the show notes as well. Thank you. And I hope that you have a great morning further.
Dugald du Plessis
Thank you very much, Paul, really appreciate it. Nice chatting to you.
Paul Ogier
Nice chatting to you too.
Transcribed by https://otter.ai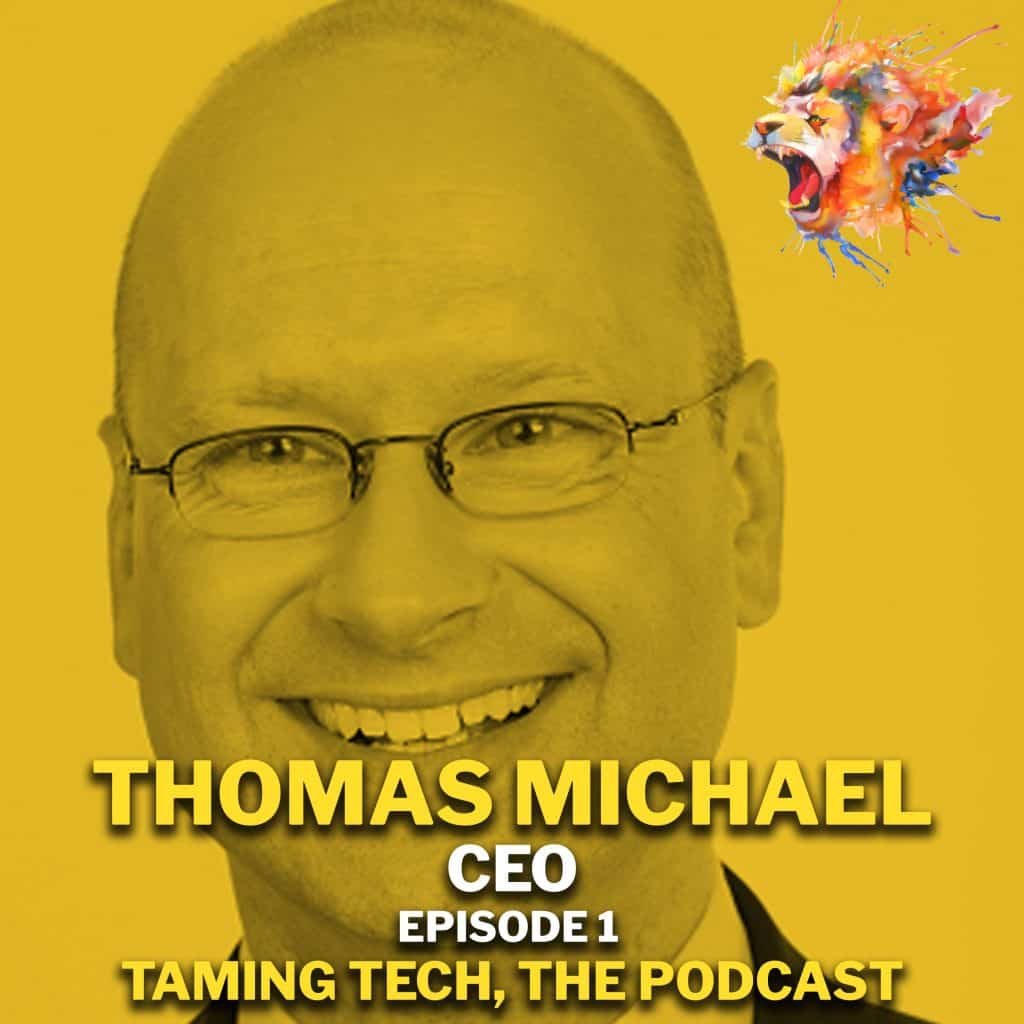 Thomas speaks and writes widely about SAP training and implementation issues.
A native of Germany, currently residing in New York, he has been involved in SAP consulting and development since 1993. Considered to be one of the leading SAP experts in the world, he has worked with an impressive array of clients all over Europe and the US.
Thomas is a published author and has written numerous articles and white papers covering a variety of leadership topics. He has been interviewed by the Wall Street Journal, appeared in INC magazine, Entrepreneur's Organization and LinkedIn Pulse.
Topics covered in this episode of Taming Tech, The Podcast include:
The evolution of training. The traditional classroom bound training to online training. The financial and accessibility benefits of computer-based training. The trends we're seeing in training today and where we expect it to end up.
An exploration of the entrepreneurial journey and what the future holds for Michael Management.
Who should listen to this episode?
Anyone who is:
Interested in becoming an online course instructor.
Interested in what the future holds for corporate training and how to leverage training for your organisation.
Interested in becoming a certified SAP user.
Show Notes
Michael Management Website https://www.michaelmanagement.com/
Michael Management on LinkedIn https://www.linkedin.com/company/michael-management-corporation/
Michael Management on Twitter https://twitter.com/michael_mgmt
Thomas Michael on Twitter https://twitter.com/ListenToThomas
The Business Case for Online Training https://www.kdplatform.com/business-case-online-training/
Waldorf Salad https://en.m.wikipedia.org/wiki/Waldorf_salad
https://www.webdesignmuseum.org
Mettbrötchen https://www.youtube.com/watch?v=aKSgGv-mx5s
How to cook Mopane worms https://www.youtube.com/watch?v=D62EHte2CQQ
Miles Davis - The Complete Birth Of The Cool
SAP https://www.sap.com/

SAP 2020 Fact Sheet https://drive.google.com/file/d/15_Elsj0aaOi5kl0Bl9O4k-kI37eV-Gve/view?usp=sharing
Prezi Present https://prezi.com/
What is SAP ECC 6.0? https://answers.sap.com/questions/4808423/what-is-sap-ecc-60.html
SAP R3 https://en.wikipedia.org/wiki/SAP_R/3
SAP ERP https://en.wikipedia.org/wiki/SAP_ERP
SAP HANA https://www.sap.com/africa/products/hana.html
Live Instructor-Led SAP Training https://www.michaelmanagement.com/instructor-led-training-courses.asp
SAP Learning Paths https://www.michaelmanagement.com/learning-path
SAP Skill Assessments https://www.michaelmanagement.com/sap-skill-assessments.asp
Regex - A Complete Guide to Regular Expressions https://www.michaelmanagement.com/sap-training-course/regex-a-complete-guide-to-regular-expressions
Tik Tok making teaching faster https://twit.tv/shows/this-week-in-tech/episodes/789?autostart=false
Increase your YouTube Speed with this Chrome Extension https://chrome.google.com/webstore/detail/video-speed-controller/nffaoalbilbmmfgbnbgppjihopabppdk
Edited Transcript
Paul Ogier
Okay, howzit, Thomas? How are you doing?
Thomas Michael
I am well, thank you.
Paul Ogier
I see that you're in New York right now on a miserable rainy day.
Thomas Michael
Yes, I'm back at home after a trip to London and now back in New York quarantining for two weeks.
Paul Ogier
So what we do is a thing called quick questions. Just to start off, get everyone to relax and let everyone get to know you quickly.
What is the weirdest food that you've ever eaten?
Thomas Michael
Well, it's not weird to me, but it seems weird to a lot of other people. It's something that I like to eat in Germany for breakfast. It's a roll with raw hamburger on it and some raw onions too.
Paul Ogier
What is that called?
Thomas Michael
It's called a mettbrötchen. It's just raw hamburger and a mix of beef and pork. People are weirded out here. They're like, why would you ever eat that?
Paul Ogier
I'm fairly weirded out on this side as well. And I'm from South Africa - we've got Mopane worms and things like that. And your raw pork just sounds...okay.
Thomas Michael
Right? If we ever meet in Hamburg, Germany, my hometown, I'm buying you one.
Paul Ogier
I'm gonna take you up on that one.
What did you name your first car?
Thomas Michael
Oh, my first car. I don't think I had a name for it. I remember what it was. It was a VW Golf diesel. My mother insisted on buying me a diesel because she figured it's slow and lame and I can't get into much trouble with it.
Paul Ogier
Was she right or wrong about getting into trouble?
Thomas Michael
There was a reason for it.
Paul Ogier
What is the most amazing fact that you know?
Thomas Michael
I just talked to my son over the weekend, and I reminded him that the most powerful force in the universe is compound interest. I think Einstein said that.
Paul Ogier
What was your first cell phone?
Thomas Michael
My first cell phone. I don't know if it was the first but it was definitely one of the first. I remember I was living in Houston, Texas, at that time. It was a flip phone, of course, and had a walkie talkie function as well.
Paul Ogier
Oh, now I'm jealous.
Thomas Michael
Yeah, so me and my business partner both had these phones. So we could "walkie talkie" to each other all over town.
Paul Ogier
What year was that?
Thomas Michael
'97 maybe, or so? Somewhere in the '90s. It was so cool.
Paul Ogier
Yeah, our technology's actually gone backwards.
Thomas Michael
Right.
Paul Ogier
My first cell phone was an Ericsson with one of those aerials that flip out. Because obviously, you had to have the aerial flipping out. I remember, it was one of those very heavy cellphones and you could have 20 numbers stored and 20 SMSs. And if you wanted it to vibrate you had to buy a separate battery, as far as I remember.
Do you collect anything?
Thomas Michael
I do. I collect old vinyl records. So when I was a kid, I obviously had vinyl records and then I got rid of them all. Then just the last couple years I got back into it. It was something that I always enjoyed back then and always kind of missed over the last few decades. So I got back into it, and I get really excited about 70-year-old jazz records.
Paul Ogier
What is your favourite vinyl that you have? If you're running out of a burning building, your family's safe and everything, and you have to grab one album.
Thomas Michael
It would be Miles Davis' "birth of the cool". I have some really old cool jazz records. But most of my collection's '80s music because I'm a kid of the '80s. So I'm buying every '80s record that I can.
Paul Ogier
It's quite amazing how expensive vinyl has actually become now. They do sound beautiful and I like the whole thing about putting a needle on the record. That physical action is beautiful. From the convenience of it, I think Spotify might still be my favourite.
Thomas Michael
Everybody tells me that's so dumb. Why would you spend an obscene amount of money on these records? And then you hear this popping and the clicking. That's exactly why. If I wanted a pristine recording of it, then I'll just listen to Spotify. But that's not what I want. I want exactly that, the physical act of putting the record on the player, putting the needle down hearing the little pops.
Paul Ogier
The nostalgia element?
Thomas Michael
Exactly. The nostalgia takes me back. Plus I like the album covers and the art that went into it. That's cool.
Paul Ogier
What do you consider yourself really bad at?
Thomas Michael
Oh, international tax law. I failed it in college. It was the only course I ever failed. Because I cannot think of anything more boring than that.
In general taxes, I do understand them, but there's a reason why I outsource that kind of stuff. I don't want to be good at it. I just don't want to do it.
Paul Ogier
So getting into the meat of this.
I was going through your LinkedIn and you've been dealing with SAP, and you were a consultant with SAP, since 1994.
This morning I was looking at a website called webdesignmuseum.org. It has old websites like what Apple, Microsoft, Metacrawler and Alta Vista looked like back in the day.
As I was going through them I thought about how we thought that these were very cool, powerful and very hip back then.
What was SAP like in '94?
Thomas Michael
It was very, very different. Everything was grey. When you logged in, everything was just a light grey or dark grey. But it was just grey. There were no visual elements.
It was the first time that SAP had a client-server architecture where it's not through a mainframe but through your computer. You had your own GUI or graphical user interface. It was fairly plain compared to what you have nowadays.
And it was much smaller, much easier back then even though it wasn't ever easy. It didn't have as much functionality, of course, it was pretty plain.
Paul Ogier
So what did you do with the sharing elements? With getting data into that? With backing up with anything. How did that all work? Was it all floppy disks? Was there any internet that you could use?
Thomas Michael
When I started in '94, SAP was on R3 back then. So that was their client-server architecture. R2 was the old mainframe architecture. So they were on R3 and I started on release 2.1 or 2.2. So, there were no more floppy disks per se.
The computer still had them of course, but SAP was on the server architecture at that time.
Paul Ogier
SAP has been around for 40 years or something like that.
Thomas Michael
It started in the '70s.
Paul Ogier
Ja, it's quite amazing to see how the software has progressed in that time. And to think that there are things that are happening now, like Google or a Facebook, that's been around for 5/10 years, or 20 years. And you've got something like SAP that's been around for 40 years. It's mind-boggling really, it's before Windows, it's before DOS. Before a lot of them.
Thomas Michael
It's amazing to think about how it was just these five guys in the '70s.
They used to work for IBM Germany, actually. They had this idea, their leadership didn't go for it, so they all quit their jobs and started SAP to fulfil this dream.
In this tiny little village of Waldorf, it's nothing, it's a dot on a map.
And you fast forward to now. I've read something, some crazy number, like 90% of all transactions in the world, somehow run through an SAP system.
Paul Ogier
Or interact with an SAP system.
Thomas Michael
Or interact with an SAP system. Exactly. Or touch an SAP system. It's amazing.
Paul Ogier
That's ridiculous.
Thomas Michael
And most people are oblivious to the fact. They wouldn't even know. I always pick it up, like when I do go to a store, then sometimes I look at the cashier's screen. I'm like, oh, that's an SAP screen. But they probably don't even know.
Paul Ogier
So you were consulting with SAP since '94, and then in 2000, you started Michael Management, which I'm going to assume is because your surname is Michael?
Thomas Michael
Yeah, I'm not a creative guy, and that was a domain that was available at the time.
Paul Ogier
I like it. It's simple. You guys have just turned 20. That's a hell of an achievement. 20 years! What was the profile of your typical client in 2000?
Thomas Michael
In 2000, it was a much different company than we are today.
I started Michel management as a boutique consulting company. Business was good at the time. It was fairly easy for us to launch.
We had a bunch of big clients that we had worked with before. Mainly fortune 500 companies that I worked with - helping them implement SAP - specifically, the asset management area or asset accounting area.
That's what we always focused on. It's a very important area in SAP. Everybody has assets, everybody has a balance sheet, but it's so highly specialized and kind of a niche. There weren't a lot of people working in that area. There weren't a lot of experts.
So that's why I focused on it. I always specialized in it and it's done me well.
Paul Ogier
The thing that blew me away, is that you guys started online training in 2007.
Khan Academy, only started in 2008; Udemy, started in 2009; Skillshare, in 2010 and Coursera, in 2012.
You guys were on the cutting edge. Actually, you invented the edge.
Thomas Michael
Yeah, we were definitely one of the first.
That's probably because when I was working for SAP, decades ago, I used to teach a lot of their training classes. The old traditional classroom training classes. They were very much death by PowerPoint.
I remember starting the class on Monday morning, and the first slide was up, and in the bottom right-hand corner, it would say slide 1of 680.
Paul Ogier
That's depressing.
Thomas Michael
And people were like, "God, this is going to be a long week!"
Fast forward to like 2006-ish, seven-ish. That was the first time when these authoring software hit the market. That allowed you to create content that's not PowerPoint-based but more simulation-based.
We played around with it and, after a bunch of iterations, we found a format that people really responded to. They liked that it was hands-on simulation courses, wasn't PowerPoint driven, and it looked like you were logged into an SAP system but you weren't.
You could simulate interacting with the screen. You can click on the buttons and fill out the field just like you would in your real SAP job. So it was true learning by doing it at that time.
We created one course, and then we created a second course and then a third. Now we're the second largest provider of online SAP training, after SAP itself.
Paul Ogier
That's incredible.
In 2007 everyone was training via PowerPoints. I think, a couple of years after that, Prezi came out, just to make the PowerPoint more interesting. But you're still not getting involved. You're still not pushing the buttons yourself. You're not interacting with the software.
So that the fact that you guys did this is incredible.
Did you know this was going to work? This must have been a hell of a lot of effort to get this up and running. How did you know that this wouldn't be for nought?
Thomas Michael
We really didn't know. I had a hunch. I knew how bad it was. So I thought anything must be better than this. There must be customers for this.
But we didn't know. There was no research or focus group or anything like this. We were a small company. We thought let's just do a couple of courses and see what happens.
We have plenty of other ideas and projects that didn't work, by the way.
This just happened to be one that worked out really well for us.
Paul Ogier
What did the other SAP training look like? They were in person. They were PowerPoint presentations. Was anything remote happening?
Thomas Michael
So back then there were really only two options.
If our client had just hired a new accountant, and that account needed training, they only had two options. Send that person to a five day SAP class in one of their training centres at a cost of $5,000 plus the travel expenses.
The alternative was to have a trainer come on-site and train that person for a day or two. But that's not scalable either. And there were really no other options back then.
We offered online training before SAP actually did.
Paul Ogier
I love it. You, you little whippersnapper, you!
The other thing you also did in 2007 was the sandboxing systems. Azure wasn't there. There weren't any other cloud providers to spin up virtual machines. How did you do a sandbox in 2007?
Thomas Michael
Yeah, and that went hand in hand with the training.
When I started in it was really hard to get content, there were no courses that you could just access and there were no sandbox systems that you could play and practice in. So it was very difficult to get started back in my day.
So I thought when we do this training, wouldn't it be nice if somebody could take a course and then log into a sandbox system and actually practice what they've just learned. So, same thing, we didn't know if it would work or not, but we had this idea that there's got to be a market for it. We like it and we think other people would like it too.
And the same thing - it took off.
We offered that before anybody else too - SAP now offers it too.
And they do it in their own way, of course. Totally different really than ours.
So the idea is people that take training and work for a company that has an SAP system but they can't play and practice in those systems because the security rules are typically so tight. So that's why these sandbox systems are a great way to improve your skills.
Paul Ogier
So did you have your own servers? Did you scale a couple of servers, install SAP on a couple of servers and allow remote access into them? How did you actually physically do it?
Thomas Michael
We had an SAP license and we started with one server and one system. And then every time they upgraded, we upgraded and added more servers and more systems.
Now we have a little server farm.
Paul Ogier
We're in 2020, now, so if you wanted to get rid of your server farm and just spin it up on Azure or Google Cloud it's just going to be much simpler than what you guys had to go through in 2007.
Thomas Michael
Yes, and that's probably going to be in our future too. We still run our own servers physically. But we're probably going to move to the cloud too - just like you said. It's so much easier and more convenient to spin up a box.
Paul Ogier
Ja, and in terms of buying hardware and things like that.
Thomas Michael
Yeah, and we don't really want to be in the hardware business.
Let these guys be in the hardware business they're so much better at it than we are.
Paul Ogier
So you guys have been training now, since 2007, you've been with SAP since '94. What has kept you interested in SAP for this amount of time?
Thomas Michael
It's the sheer scope of SAP. People don't realize how big SAP is.
It took us almost 10 years, maybe 8 years, to develop all the courses for the ECC 6.0 system that we wanted to develop. You're talking hundreds and hundreds of courses, thousands and thousands of lessons.
It took a very long time to just cover ECC 6.0 and that was a stable release. Everybody is, and was, on ECC 6.0 at that time. So it was a good environment for us to put resources into it to develop more content for it.
Of course, SAP then came out with SAP HANA. Their brand new release, everything looks different. So we were thinking that means we have to develop all new content.
But do we really want to spend the next eight years doing that or do we want to leverage all the other smart SAP guys in the market and have them create the content and put it on our platform? That was a bit of a shift in our business model.
Originally, we were the platform and the content creator. Now we're shifting more towards where we are the platform, and all the other smartest SAP people in the world are the content creators. Like Udemy does.
That allows us to create a lot more courses in a shorter amount of time.
Paul Ogier
I was a math teacher back in the day and I would teach a concept. I thought I was teaching the concept beautifully and 95% of the students would get it. There was that 5% that often turned to their next-door neighbour to ask how do you do this. It never offended me because everyone learns differently.
Have you guys found the same kind of thing with your trainers? That if you guys are teaching it one way, having a variety of trainers actually makes the content richer, more vibrant, learning more effective?
Thomas Michael
Yes. And that's exactly one of the reasons why we wanted to do this.
When I taught SAP's courses, their content, there was always one voice, one flavour of ice cream, everything was very much the same. Either you liked it or hated it.
Then when we created our own courses, at first, the same thing. It was our style, our voice, our everything. People liked it, but I always thought, well, we're not the only smart people. There's a lot of other people that are smarter, that can teach it better or differently. People might respond to this instructor better than to that instructor.
So that was one of the reasons why we opened up the platform for other people to create content. And we do not enforce a duplicity rule. So if we already have a course on SAP purchasing it's okay if you want to create another course on SAP purchasing. Because you'll cover it differently and you'll explain it differently. People might respond to your course better than to the other course.
Paul Ogier
There also might be different industries There are going to be different prerequisites you have to put in place and you'll have different parameters. I don't think you're just doing a generic SAP course.
Thomas Michael
Exactly, yeah. And it gives it more texture to have all these different topics taught by different instructors in different styles and manners. I like it a lot.
Paul Ogier
You've also started introducing the live instructor-led courses where it does a one-day jumpstart class. So if I've just been employed by a company, that's running SAP, I would jump into that class and I could actually have a live instructor explaining stuff to me.
Thomas Michael
Yeah, so it feeds into what you just said people learn in different ways. Some people learn well with self-study, eLearning.
Other people want a live instructor to teach it to them and show them. So we wanted to cover both avenues.
The self-study eLearning is still the main mode of learning these days but it doesn't cover everybody. So if our corporate clients come to us and say I have this a team of accountants or buying agents we want to train we put them on one of these one-day jumpstart classes.
A five-day class might have worked 10 or 15 years ago but today, nobody has a week to take off.
What we like to do is we chop things up into smaller bite-sized things and only teach people what they really need to know right now. Then if they feel like they need to take the advanced level of it or the configuration course for that, they can do that separately but we don't cram it into a five-day class. It's just too much.
Paul Ogier
The thing I find interesting is that you've got learning paths as well.
If I want to be an SAP administrator there are four different learning paths. There's the SAP HANA administrator, or SAP solution manager, architect or system administrator.
Each of them says this is 37 hours, or this is 40 hours, and then I can actually go through those particular routes to find exactly what I'm looking for and take these particular classes.
I do enjoy the fact that you have more direct routes for each individual person. And that was just one example, there are some other ones where there are 18 different routes.
Thomas Michael
Yeah, all these learning paths were a direct result of a big survey we do every year amongst our community, and we're a pretty big community.
We asked them, what's the number one thing you need, or you want. And learning path or career guidance came out on top.
That was probably the result of us having so many courses and then people always ask, where do I start? That's hard to do when you have 400 plus courses to figure out which one should I take?
So that's when we sat down and created these learning paths. I don't think they were very good in the past. This last year we overhauled all of the learning paths and made it a lot more obvious what the path or the track is that you need to follow.
So we cover most of the common SAP job roles. So if you want to be an accounts payable clerk, there is a job path or a buying agent or an HR administrator or a database administrator. We have these paths already pre-configured and pre-designed for you.
Paul Ogier
If I've actually worked on SAP before do you have a self-assessment tool or anything like that to say you can start at step 30, then?
Thomas Michael
Yes, so we have what we call our SAP skill checks.
That's something that we always tell, especially our corporate customers, when they say I have this group of people, and they need to be trained on SAP. The very first thing we always tell them is you really need to make sure you train the right people on the right content.
Because let's say you take somebody and you make them go through 20 hours of basic SAP skills training, and then the person comes out and says I already knew all of that stuff. Well, not only is it a waste of money, it's a waste of time.
We always say before you assign these courses, do a quick little skills check of your people. It takes 15 minutes to take the test, and the test will tell you you're this level and maybe you should take a course or not.
You avoid wasting people's time by having them take training on content that they already know.
Paul Ogier
So would you suggest that if a company is running SAP that they reach out to you guys, do the skills test first and then basically see what the missing parts are before they start?
Thomas Michael
Yes, if you're a company that runs SAP, we always want you to call us.
The skill checks are really for those folks that are not 100% sure, where the skill levels of their teams are.
We just signed up a new client in Italy. They're brand new to SAP so they don't need to take the skills checks because we already know everybody starts from scratch.
But we have other customers that have been on SAP for a long time. Some of their users are newbies, others are somewhere in the middle others are experts. So for those, it would make sense to take a skill check before you enrol in a course.
Paul Ogier
I think it could be exciting to supply a company with training from scratch rather than having a mix of skill levels. Is it?
Thomas Michael
Yes, I think it's exciting. It's a lot of work. But if it's done properly, I think it pays huge dividends for the company.
There's a lot of companies that have skipped that important step, the end-user training, or thought they can rush through it in a week or two before going live. That never works well.
I've worked as a hands-on SAP consultant for a quarter of a century. I've worked with a lot of companies where when I ask the users who trained you they say I've never received any training. Bob, over in accounting, he showed me a few things when I started.
Maybe it saves a lot of money upfront, but it costs you double that later on, to fix it.
Paul Ogier
With SAP, there are obviously massive things that they're doing and they've been around for 40 years. Have you ever thought this is absolutely terrible, they've made a huge misstep and I need to try another thing?
Thomas Michael
Luckily, no. I got lucky.
I didn't get into the SAP business by choice. I finished college and my cousin was a partner in an SAP consulting firm and he gave me my first job. So that's how I got my start.
But it could have just as well have been any of the other ERP vendors back then - that don't exist today anymore. So I got lucky. I got into the SAP world and it was very obvious and very clear very early on that this will be the dominating ERP system for decades and decades to come.
Companies don't implement SAP with a time horizon of less than 30 or 40 years. So you know, these systems will be around for a long time.
Paul Ogier
So you guys are also expanding Michael Management now. You're not just doing SAP.
The way I got to know about you guys, is we have a regular expressions course - for data analysis, for cleanup of data and things like that - that we've now placed on to your platform.
What kind of courses are you guys now accepting?
Thomas Michael
Yeah, so our bread and butter business is SAP content, of course, and will always be. We're heavily specialized in that area and that's why companies come to us and buy our content. That said, we realized that there's a bunch of other systems that touch SAP.
So that's like the next ring of courses that we started to develop. And it was very popular. Then we released Excel add ons for SAP. Then we thought well if we're doing Excel might as well do Word and PowerPoint. And then they were very popular. So we're adding more and more content.
But we always wanted to focus on our core mission of SAP training. Then COVID came along. And suddenly all of our customers were asking do you have any courses about managing remote teams or how to be a better remote manager or how to work from home or how to deal with stress. So we thought, we don't but what a great topic to add right now.
So we did that. We have no ambitions to be the next Udemy and cover everything but we realize that there are a few other things around SAP that are important to our current subscribers.
Paul Ogier
So if people want to get hold of you. The best place to get hold of you guys is at Michaelmanagement.com?
Thomas Michael
Yes, Michaelmanagement.com. There's a Contact Us link. They can send us an email, you can chat with us. If it's during regular business hours, we have a live chat. Sarah's on the live chat. She's always happy to chat with anybody.
Paul Ogier
Where do you guys see online training going in the next five to twenty years?
Thomas Michael
Just a few years ago I remember when we had sales presentations with new customers, we would boast about the length of a course. Like you can take this basic SAP skills course that's an eight-hour course; very meaty. You get good value for your money. Those days are over.
Now when I tell somebody there's an eight-hour course, the very first thing they ask me is do you have a two hour or shorter version of that? Because we don't have eight hours.
So everything will be shorter and faster and quicker. That's definitely what we're seeing. There are a lot more one or two hour courses these days than eight-hour courses. Lessons used to be 30 minutes or 20 minutes. Now a lesson is 5 or 6 or 7 minutes for new lessons.
That's what I would tell content creators now to keep that in mind. People want short, quick stuff. They want to be able to look something up and then turn and use it right now in their job, this afternoon.
Paul Ogier
I was actually listening to an interview the other day on another podcast where they were talking about people being trained.
And instead of going to YouTube, where it says, subscribe to my channel, and before we get started go to my website and all the other stuff and then five minutes into the video there's the training. People are actually going to TikTok and they're learning off TikTok in two or three minutes.
And I thought, that's interesting. I do get the point because YouTube, and those places where you get free education, there's a lot of things that are taking up a lot of time.
I've got my YouTube speeder app on my computer so I don't have to watch at one speed because I can't handle how slowly people talk. So I get you completely.
But I think at some point, we're gonna have to say a one minute lesson is too short.
Thomas Michael
I agree I think that you're bumping up against the natural limitation.
What you can cover or learn in a minute or two. I don't ever think that we'll see 45 second lessons. So I don't think that's happening.
The other shift that we noticed when we first started creating content was all these hands on simulation courses by design are slow. Because you have to interact, you have to click on it, you have to fill this out. Over the last few years, there was a shift more to video-based courses.
Netflix and Udemy, they have us watching videos all the time. So that's what people want and like, and YouTube, too. So that's the future. Everything will be short little video clips.
In the future I think that we will also see us moving towards more assignments. That's what we're planning on doing. I'll let you look behind the curtain a little bit.
So one of our new things will be that we want to include more assignments, more homework, in the courses. Where you watch a five-minute clip on how you do it and then your assignment is to go do that in your system.
Paul Ogier
Yeah, I think if you're looking at assignments, and you've got the sandbox environment, it just makes sense. Absolutely.
Thomas Michael
When we did that survey the number one thing that they said they wanted were these learning paths. The number two thing was assignments; homework.
Paul Ogier
So how would you do it in terms of the instructors? Because obviously, the instructors might have 500 students and they're all doing assignments that are a free type assignment.Those are going to be quite challenging for the instructors.
Thomas Michael
Yeah, we're not going to make or expect the instructor to do that for that very reason. This is a self assignment. So you've learned what you're supposed to do and you know what the outcome is, now, here's the assignment. Try to do this, see if you get to the outcome.
We have another thing that we're just about to go live with, eLearning. People always have the tendency to think or feel it's just me in my office learning by myself. I'm all alone. I can't ask anybody.
We want to show people it's not like that. No, you're one of thousands of students, and you're never alone. So we're releasing a new global live chat that students can interact with. So they can chat with a bunch of other students live. I want it to be more of a community, I want to create tools that allow people to interact more.
Paul Ogier
When I first started in IT in the late '90s, I found that going onto the internet and looking at forums, especially with people in IT, they often wanted to help. For just the fact that they were helping. It wasn't about wanting something or getting paid.
I do find that that kind of interaction with other people live is sometimes one of the most profound things. That actually kind of touches me a little bit. It says this person is willing to take time out of their day to help me with my thing. I think as long as you don't abuse that, then I think it actually works quite nicely.
Thomas Michael
It's really surprised me too, because we also did a survey of all of our instructors very recently.
And we asked them why are you doing this? What are you getting out of it? Is it professional recognition that you want? Is it the money you're making the recurring income stream? Or is it that you like to share your knowledge and help other people around the world?
Out of these three, sharing my knowledge and helping other people around the world was the number one answer people gave us. Totally amazing. I didn't expect that.
That made me feel good about this community.
Paul Ogier
I think the community elements are going to be a beautiful thing, I really do. As an ex-teacher I obviously love teaching and learning. And it's very important in IT and it's been important in every position I've held.
How do you keep yourself up to date on the latest technologies? Do you do courses? Do you read?
Thomas Michael
I consider myself a lifelong learner. We eat our own dog food. So we take our own courses, we discuss them, we have lunch and learn sessions about them.
And there's a lot of other things that I like to learn about outside of SAP. So I take courses on LinkedIn learning, for example, I take courses on Udemy. There are plenty of other platforms that have amazing content.
Paul Ogier
Before we start finishing off, what kind of project or experience has resulted in the biggest learning curve for you? What is your biggest challenge?
Thomas Michael
One of the biggest challenges in the SAP world is separating fact from fiction.
So, SAP is obviously a software company, so they make money by developing software and selling software. So when you listen to their marketing department, this thing is the hottest thing on earth, and you have to have it and everybody will be on it by next week.
So then you have to really think what's true. So then you start looking at all our customers, and you start talking to them. And they're like, no, we have no plans on ever using that.
I remember a few years ago, SAP mobile was something that was touted. You have to be on SAP mobile, that's the new hottest thing. And I was sceptical. I'm like, I don't see that happening. Not for many years. So we decided against creating content for that.
In hindsight, it was smart because it was shut down.
So that's a challenge to really think about, where are we taking this? Where do we want to develop content? What's really being used? versus what's just a marketing pitch?
Paul Ogier
Where can people find you? Where can they get in contact with you?
Thomas Michael
So easiest is michaelmanagement.com that's how you get ahold of us. If you want to get hold of me personally, I'm always up for beer or coffee in New York City. Look me up.
For most people, it starts on the website. And again, we have our live chat nine to five Eastern Standard Time, New York City hours. Or you shoot us an email at [email protected]
Paul Ogier
Perfect. Thank you so much. I really appreciate your time, Thomas. Thanks so much.
Thomas Michael
Thank you, Paul. This was great. Really appreciate it.
Paul Ogier
Cool man. Thanks.